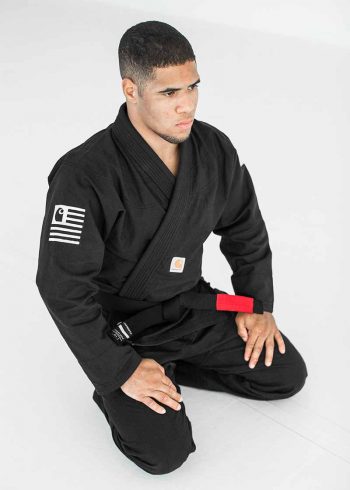 PARIS FASHION WEEK/ — Carhartt WIP is pleased to announce its latest capsule collection, which sees it teaming up with US-based Jiu-Jitsu brand Hyperfly to create a series of custom Gis. Fusing together both brands' unique aesthetic, each Gi has been created in Carhartt WIP's iconic duck fabric, with tonal stitch detailing and subtle co-branding. The Gi has been created in three colorways – navy, black and Hamilton brown.
Carhartt WIP stores will exclusively stock the black colorway, while the other two colorways will be available through Hyperfly channels, please see list on page two for further details.
Jiu-Jitsu is one of the oldest forms of Martial Arts known to man, originating more than 4,000 years ago from Buddhist monks from northern India. To protect their monasteries against invaders, the monks created a non-violent form of self-defense against much larger and stronger opponents. Without kicking or punching, the monks were still able to defend themselves. This nonviolent technique traveled to Japan where it evolved to what is now Jiu-Jitsu, translated from Japanese, "The Gentle Art."
Hyperfly was founded in California in 2011, building on its mantra, "You Can't Teach Heart." to foster a community of fighters who value authenticity, diligence, and perseverance.
The brand also shares a similar outlook to Carhartt WIP, in creating utilitarian garments which are both built to endure and with a keen attention to detail.
AVAILABLE AT:
Carhartt WIP Store Paris Bastille