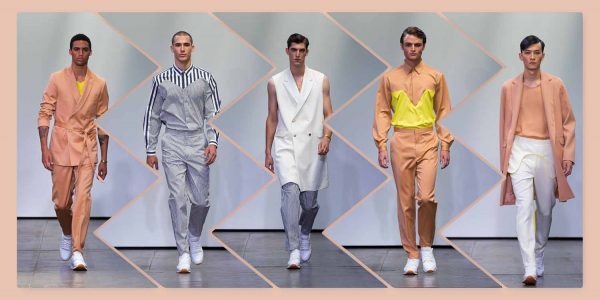 Bold, bright and beautiful… these adjectives are not usually used to describe a menswear collection, yet designer Carlos Campos easily gathered this three B's for his Spring 2019 collection.
"I continue return to the heritage and DNA of my brand: expert hand tailoring with the clean, architectural lines and silhouettes that have been the benchmarks of the Carlos Campos collection," the designer wrote in his press notes.
Campos' easygoing attitude belies his seriousness when it comes to his designs. The 25-look menswear collection is cleverly edited, showing off clean architectural silhouettes that are realized in crisp tailoring. Opting for a bold color palette, Campos proposes a very colorful Spring/Summer 2019 for men.
This season, the designer partnered with emerging menswear jewelry designer, Felipe Sena of Sena New York. Sena New York's sterling silver, 18k vermeil "industrial chic" rings, bracelet and necklaces were featured on several of the models. Reebok sponsored the sneakers.
In the audience were superstar musical, Miguel and Washington Wizards forward, Kelly Oubre Jr, both wearing the Carlos Campos collection.
Photos: Thomas Barnes