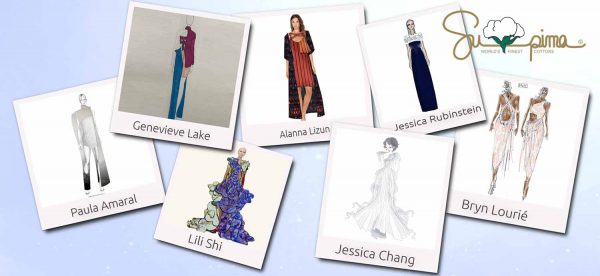 Seven women takes center stage on Thursday, September 6, 2018 at Pier 59 Studios for the 2018 Supima Cotton Design Competition.
On its 11th cycle, the contest supports emerging talent by challenging student designers from seven of the nation's top leading fashion schools to create a capsule collection using Supima cotton fabrics. The collections are then evaluated and presented in a collective runway show during New York Fashion Week.
Catching up with the seven finalists, they shared their inspirations for their entries.
Paula Amaral, Academy of Art University – "I often see myself being inspired by the moment or the situation I am living at the moment I start a collection."
Genevieve Lake, Fashion Institute of Design & Merchandising – "My inspiration comes from the fact that the majority of society puts up a front for what they display to the world."
Lili Shi, The Fashion Institute of Technology – "This collection is inspired by Daoism's philosophy: Dao begets one, one begets two, two begets three, three begets all things."
Alanna Lizun, Kent State University – "The inspiration for this collection is the rate at which females in America are forced to grow up…. I want to explore the garments of my past and how I can re-invent them to wear as a comfort to help propel me into the future."
Jessica Chang, Parsons School of Design – "I get inspiration from draping and my paintings. In my designs, I used multiple forms of pleats, they're my translation of a brushstroke but also, I see them as a symbol for sequences."
Jessica Rubinstein, Savannah College of Art and Design – "The inspiration behind my designs is the use of technology to create garments with some futuristic aspects…. This collection is about 'The connection between the present and the future.'"
Bryn Lourié, Rhode Island School of Design – "I am inspired by strong and kind women around me (my family, friends, teachers, etc). I design clothing that highlights their bodies and personalities, while making sure they remain comfortable."
This season, Bibhu Mohapatra is serving as mentor to the seven finalists. This year's judges include Amanda Hearst, Avril Graham, Faith Cummings, Fern Mallis, Hilary Milnes, Ruthie Friedlander, and Tyler McCall.
Photos courtesy of Supima