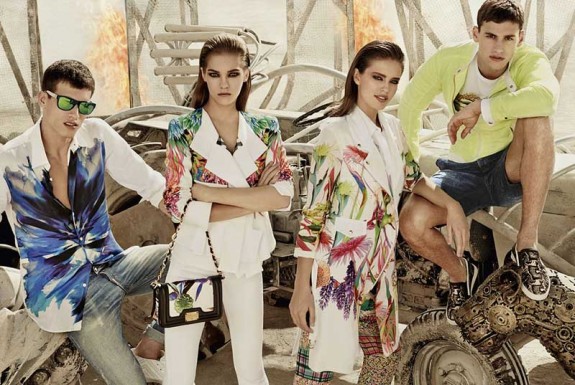 MILAN, Jan 15, 2014/ — Right at the heels of Milan Menswear Week, Just Cavalli released its Spring/Summer 2014 advertising campaign.
Written to embody the core values of the young generations focusing on the love for life and style, the distinctive theme of the "Love Revolution" spirit stands out. A subtheme of the campaign is to express one's individuality.
Giampaolo Sgura realised these breathtaking shots in Ibiza, a striking location which evokes the incredible sceneries of the Black Rock Desert in Nevada, where the "Burning Man" festival is held. Each year this unique event welcomes thousands of participants who want to savor their every moment of their lives with excitement and passion.
Emily DiDonato, Samantha Gradoville, Mariano Ontanon and Adrian Cardoso express the enthusiasm and strong sense of freedom epitomized in the Just Cavalli Spring/Summer 2014 collection through these images characterized by the vibrant colors of the fire burning on the majestic installation citing the word 'LOVE', anthem to the power of love itself.
The prints featured on the clothes evoke a contemporary fantastic world characterized by virtual flora and fauna which develops tridimensionally giving life to dreams, emotions, and harmonies of color in the tones of red, yellow, turquoise and green.
Photographer: Giampaolo Sgura
Art Director: Marco Braga
Hairstylist: James Rowe@Dvd
Make-up Artist: Jessica Nedza@CloseUP Milano
Location: Ibiza
Stylist: Véronique Didry