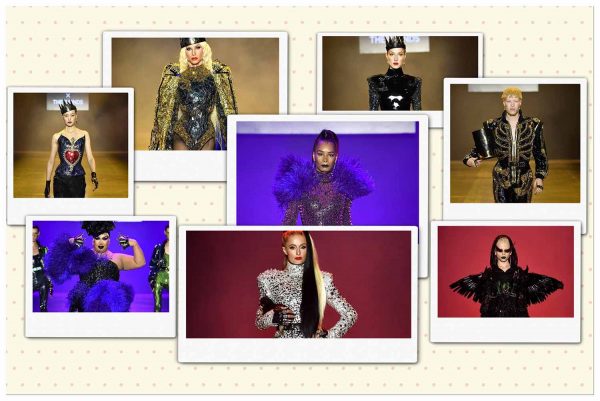 Perhaps its because the highly successful TV series "Once Upon a Time" made Regina, the Evil Queen relatable or the long running Broadway show "Wicked" explained why the Wicked of the West had a bad rap.
Whatever the reason, Disney decided that it was time for the villains to shine. To quote Ken Potrock, President, Consumer Products and Commercialization, "Disney Villains have long lived in the dark shadows of the beloved heroes and heroines of their stories, and yet these characters are just as celebrated."
And celebrate them, Disney did as the dream purveyor teamed up with famed fashion brand The Blonds cofounded by designer Phillipe Blond and creative director David Blond reimagined Disney's most notorious villains in totally unexpected ways.
"Villains have the coolest wardrobe," said Phillipe Blond during a pre-show interview. "That was one the [parts] where we were like, oh my god, this is going to be fun. We can really explore this and make this over the top."
"The Disney Villains style is iconic and has inspired us since childhood and throughout our career. The opportunity to collaborate with Disney and see these designs come to life on THE BLONDS runway is an absolute dream come true," commented David Blond.
As part of the creative process, Phillipe and David toured the Disney Animation Research Library where they learned about each Villain's mythology and viewed the inspiration behind the iconic animation of these characters, including original artwork and sculpts.
"What drew us to working with Disney Villains are the complex attributes of the characters themselves," continued David Blond. "Often misunderstood, Disney Villains are flawed, imposing and mysterious, and we loved the idea of taking these characteristics and translating them in a glamorous way, making them the heroes of our story."
So, on September 7th, at Spring Studios during New York Fashion Week, the Disney Villains became fashion heroes. Cruella De Vil, Maleficent, Evil Queen, the Queen of Hearts, Dr. Facillier, Ursula and her dark eel minions Flotsam and Jetsam took center stage on the catwalk.
The show opened with Phillipe Blond in stunning mirrored full-length coat inspired by the Evil Queen, followed by Shaun Ross (look inspired by Dr. Facillier), the Dupont Twins (looks inspired by Flotsam & Jetsam), Paris Hilton (look inspired by Cruella De Vil), YouTube personality Patrick Starrr (look inspired by Ursula) and closed with Dominique Jackson (look inspired by Malificent).
And as always with any of The Blonds runway shows, it was chaos and pandemonium as the audience showed their appreciation with vigorous clapping even whistling at the end of the show.
Photos courtesy of The Blonds