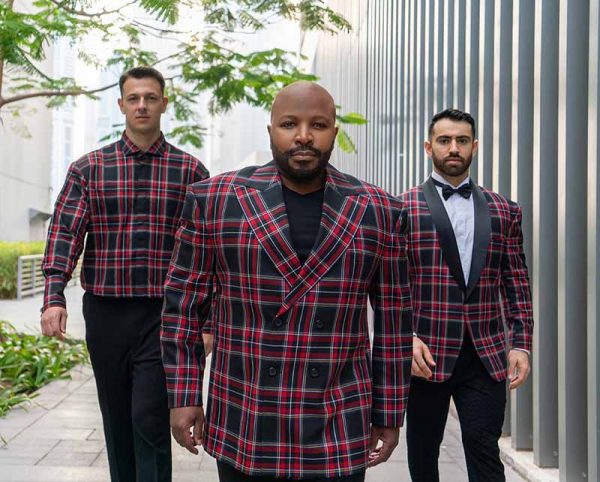 Debuting his Fall/Winter 2019-2010 collection during Milan Fashion Week Men (Milano Moda Uomo), Franklin Eugene with "the hope that everyone can find something in the designs that speaks uniquely to him/her in a positive way."
Paying homage to the name of his eponymous label Franklin Eugene Icon, the designer added,
an icon is defined as a person or thing worthy of veneration. Being ever mindful that each us in our own special way has the capacity to channel the iconic, these designs were inspired by that extraordinary part of the human spirit in all of us."
Proposing some stunning classics as well as some with a level grittiness as in shredded jeans, head scarfs, gold chains for some street creds, Franklin Eugene chose to do them in gold, red, and blue color palette. They were interspersed with black and green to break any monotony.
With these, the designer's eye for pattern, texture, and color come together in a way that stays true to tradition while leaning forward. Comfort intersects with function and style. Even with the use of bold color and print, clean lines and strong silhouettes remain foundational elements. Cozy, comfy, colorful, strong, enough said.
This season, the maison also debuted the Franklin Eugene male head scarf which has been christened MARF, an amalgamation of male and scarf. Bursts of color, strategic use of prints, clean lines, sleek cuts, and strong silhouettes permeate this sartorial offering.
Photos courtesy of Franklin Eugene