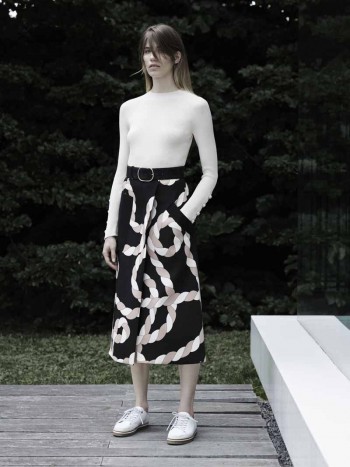 For Resort Spring/Summer 2016, Sportmax rides on the crest of a wave as a bold exploration of the ocean.
With a crisp palette of classic black, white, navy and ecru, the collection embodies the effervescent lifestyle spent at sea. Patch pockets on a seafaring belted trench with contrast hand stitching on fluid silk dresses and skinny rib knits are created in unique shapes and silhouettes.
Denim brings ease to the concept of work wear – cutout pockets with frayed and tufted edges add texture and humor. Bold graphic rope twists are decorated on playful dresses while chunky 3D knits are detailed with asymmetrical silver naval buttons on a double faced pea coat.
Luxurious suede and complex knitwear are complemented by signature design fabrications. Pops of firecracker red and cobalt blue evoke the boldness of the sea, above and below water. Cropped wider than wide sailor trousers add a feminine touch as the ankle is revealed above a box fresh white sneaker.
Veronika Heilbrunner, the model in the collection photographs, cleverly illustrates the whimsical spirit of Sportmax in a fresh, modern and original way. Heilbrunner is also the founder of Hey-Woman.com and photographed at The Molteni & C Cube.
Designed by Ron Gilad, the Moleni & C Cube was the perfect location – like Sportmax, Molteni continues to manifest contemporary Italian design innovation and quality.
Photos courtesy of Sportmax