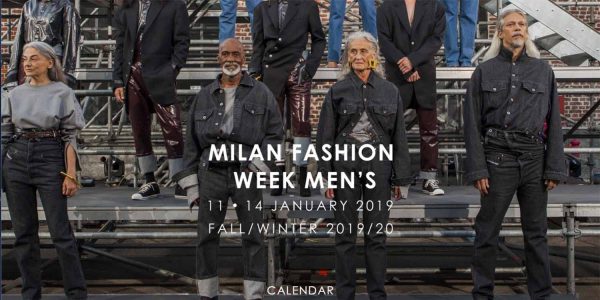 The Milano Moda Uomo (Milan Fashion Week Men's) Autumn/Winter 2019 season slated for 11-14 January 2019 features 27 shows, 16 presentations, 9 presentations by appointment and 18 events, covering a total of 52 collections.
Appearing on the calendar for the first time are:
United Standard -Italian brand founded in 2015 by designer Giorgio di Salvo (supported by CNMI and CNMI Fashion Trust);
Magliano – Italian brand founded in 2016 by designer Luca Magliano (supported by CNMI);
Bed J.W. Ford – Japanese brand founded in 2010 by designer Shinpei Yamagishi (supported by CNMI);
Spyder – Korean brand founded in 1978 and designed by Cristopher Bevans (Men's Lifestyle Line) and
Peter Brunsberg (Bag&Accessories Designer);
Numero 00 – Italian brand founded in 2012 by Valerio Farina.
Thanks to support from CNMI and CNMI Fashion Trust, M1992, an Italian brand designed by Dorian Gray, is also showing, while Miaoran, by Chinese designer Miao Ran, is returning to the calendar. Another comeback to Milan is John Richmond.
This year too, a number of brands have decided to do co-ed shows: Daks, Dsquared2, Frankie Morello, Isabel Benenato, John Richmond, M1992, Marcelo Burlon County of Milan, Miaoran, Neil Barrett, Sartorial Monk, Spyder and Sunnei. CNMI, thanks to the the support of Confartigianato Imprese, MIse and ITA, is once again providing the Base Vanue in Via Tortona 54, which will host shows by Magliano, Bed J.W. Ford, Miaoran, Isabel Benenato, Sartorial Monk and Portugal Fashion, a special show by Miguel Vieira.
Presenting for the first time thanks to support from Camera Nazionale della Moda Italiana are the Italian brands Danilo Paura, founded in 2015 by the eponymous designer, and Barbanera, a brand launched in 2011 by Alessandro Pagliacci along with brothers Sergio and Sebastiano Guardì.
Milano Moda Uomo opens on Friday 11 January (at 8 pm) with a men's show by Ermenegildo Zegna, to be followed by the Milano Moda Uomo opening party, "Elevator to the Future", organized by Camera Nazionale della Moda Italiana in collaboration with Confartigianato Imprese and with support from the Ministry of Economic Development and ITA (Italian Trade Agency), the Municipality of Milan as institutional partner and The Italian New Wave\Club to Club as artistic partner.
Fashion Week closes on Monday 14 January, at 9 pm, with a special event by Gucci at the Gucci Hub: "Motus presents MDLSX with Silvia Calderoni", directed by Daniela Nicolò and Enrico Casagrande.
This Milan Fashion Week can be enjoyed live on the renewed website, cameramoda.it, which provides streaming of the fashion shows, videos and photo-galleries of the collections, also available on CNMI's app, while real time updates will be fed to its social profiles (Twitter, Instagram (@cameramoda) and Facebook).