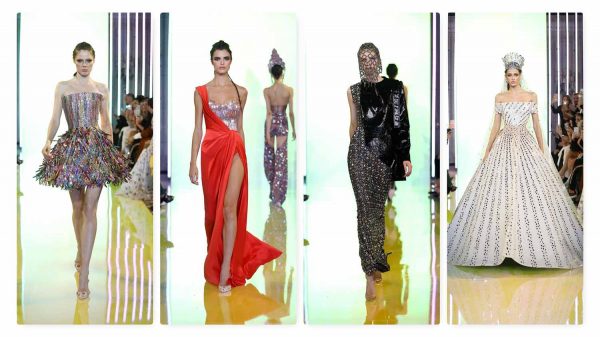 Éternité Éphémère – The RAMI KADI couture collection for Spring/Summer 2019 is an exuberant ode to the free spirit and creativity of Burning Man, radiating iridescent beams, hallucinating with visual illusions and hypnotizing in its colors.
The collection is as vivid and effervescent as the transformative community that inspired it: colors are ever-changing, materials are holographic and combinations are playful. Things are not quite what they seem in a collection that embodies a territory of radical self-expression, celebrating Bohemia with couture finesse.
Light is transitory, blazing from mirrors and laser-cut plexi in geometric embroideries mapping the body to enhance its sensuality.
Bold combinations see casual wear reimagined with unabashed glamour: chaps, two piece sets and leggings are fully embroidered. Contrarily, gowns are youthful and light no matter the volume nor the opulent crystal embellishment. Slick-tailored half-blazers are graphic and relaxed; shoulders sharp, lapels soft.
Asymmetry alludes to balance, structure compliments fluidity and jet black contrasts invigorating color prisms.
For his debut couture show, Rami Kadi imagines a sumptuous mirage of power-dressing for the woman with Emancipation at heart.