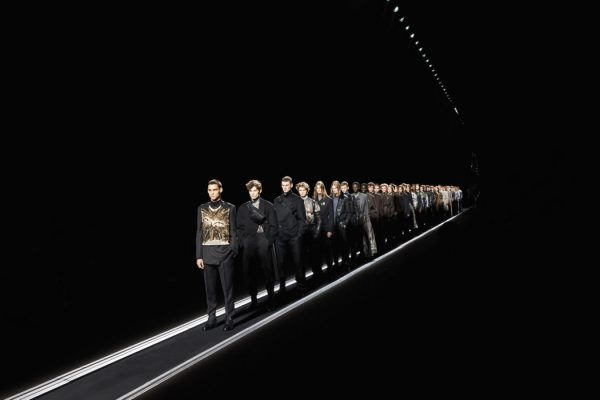 In the center of Paris last Friday evening, just off the lawn of the Eiffel Tower, Dior presented its menswear collection in a vast, dimly lit hall. As the show began, the runway came to life, moving a procession of statue-still Dior clad models down its center like a conveyer belt—giving us the feeling that we had been transported to a time we have not yet experienced.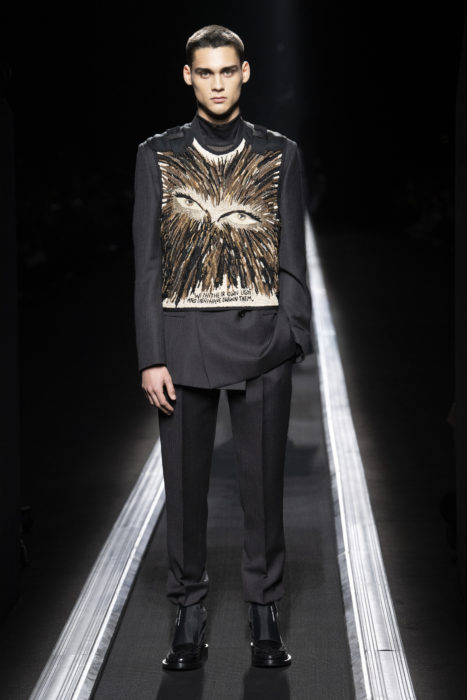 For Fall/Winter, artistic director Kim Jones continued the house's ongoing homage to Mr. Dior himself, creating a selection of smart and futuristic classicThrough examining the house's past, Jones was able to create a dialogue with the future, bringing the best of into his designs for today. The compilation of blue hues, blacks, and pearly grays and browns, gave off classic Dior vibes. Reimagined silhouettes emitted a chic space-aged feel—seen in pieces like double-breasted overcoats with rich layers of horizontal drapery, and pullovers with pockets, zippers, and folds, reminiscent of a something that could be worn by an astronaut.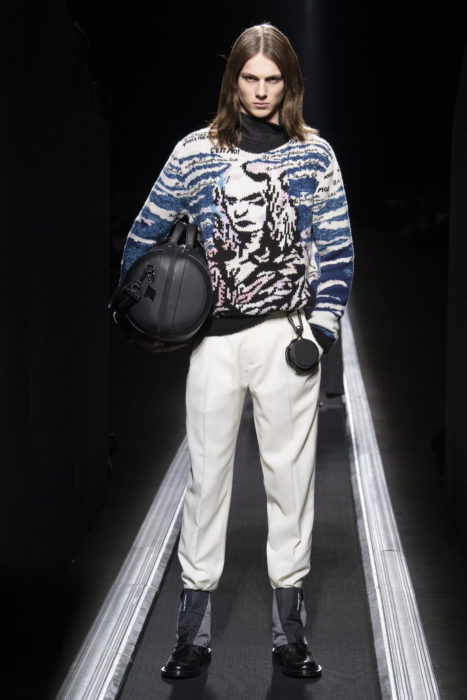 Just as Mr. Dior was a gallerist of the avant-garde during his time, the translation from art to fashion was made through a collaboration with artist Raymond Pettibon, whose drawings were reinterpreted as prints, embroideries, knits, and jacquards. Throughout the collection, Pettibon's Mona Lisa-influenced figure and other motifs accompanied punk interpretations of the house's iconic imagery, like a spray-painted version of the Dior animal print, and the "CD" emblem, which was fastened on with a safety pin.
In addition to the intermingling of elements that are traditionally considered feminine (in details like handbags, saddlebags, and other accessories), Jones also updated the modern idea of luxury to include practicality, as well as beauty. Precious materials like cashmere, silk, satin, and furs have been combined with the likes of nylon and other technical fabrics to add a high-gloss sheen and a new level of wearability.
While each look had its moment to shine through the inky depths of the presentation hall, a few we're still thinking about include the iridescent gray cargo pants and matching windbreaker, worn with combat boots, a silken collared overcoat, and a matching quilted backpack; a pair of black slacks worn with a sweater bearing Pettibon's embroidered artwork; and the streamline knee-length pullover in light gray, worn with an over-the-shoulder fanny pack, leather pants, and boots.