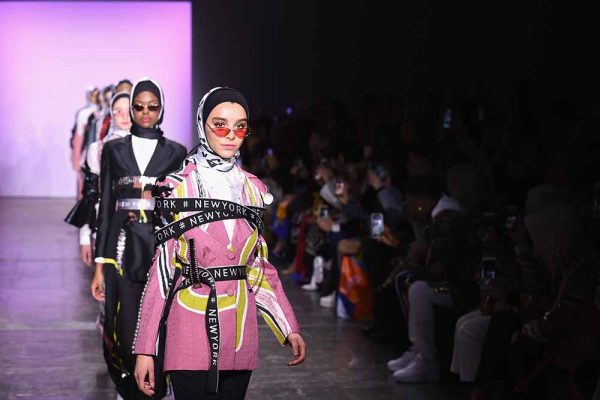 Showing under the banner of Indonesian Diversity, Dian Pelangi rocked the New York catwalk with her "Social Love" collection that put the hijab front and center.
Few people outside of Asia realize that Indonesia has the highest number of Moslems per capita in the whole world. That said, the hijab, a head covering worn in public by some Muslim women is the accessory de rigueur in Indonesia. Hence, it is not surprising that Pelangi made it the focus of her collection.
"Women rocking a hijab should still be able to represent the modern, dynamic, and sporty street style typical of Manhattan." quipped Pelangi backstage before the show.
Titled "Social Love," each look in the collection features layered dresses and coats cinched at the waist over pants, obstructing the mainstream vision of femininity; integrating tones of pink, black, and yellow.
Accessories included cat eye sunglasses that were ripe for street style snaps, making "Social Love" an instagramable moment!
With pieces that left many of the American guests asking if the collection was "See Now Buy Now.", Pelangi demonstrated that hijabi women can be cool, modern, and embrace street style.
Photo by Yuchen Liao/Getty Images for Indonesian Diversity