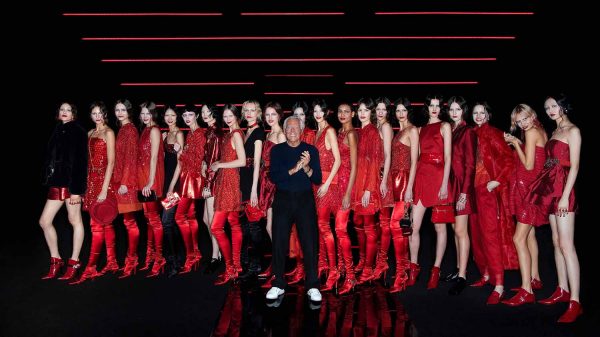 Intriguing… that was the first thing that came to mind when I saw the title "Freestyle" for the Emporio Armani Womenswear Autumn/Winter 2019-2020 collection.
An established high fashion label, Emporio Armani already has an intrinsic DNA that people readily identifies. So, "freestyling" in Emporio Armani seems like a conundrum.
Well, I'm to report that I was far off the mark. As it turned out, you can freestyle with this venerable Milanese label. And it's as easy as 1, 2, 3 with freestyle defined as the freedom to dress as one chooses, without the following pre-set schemes, having fun, using clothes and accessories as a means of personal expression.
So, how do you freestyle in Emporio Armani? Rule #1: Opposites harmonies in unexpected and individual combinations. The starting point is proportions: oversized outerwear combined with feminine dresses and latex-effect leggings; small, tailored jackets paired with ample, soft trousers.
Rule #2: Contrasting materials and shapes reconcile through the use of couture-effect textures. Case in point, jackets, trousers and denim jumpsuits have parts and details that dematerialize in organza. Dress surfaces become an artist's canvas on which patterns and drawings can be freely expressed: macro checks, black-and-white contrasts, scratched Emporio Armani lettering and signs of vague and diluted exoticism.
Rule #3: Freestyle is an interplay of colors; with tangerine enhanced by red and brightened with ivory on a graphic base of black and white. The contrast game culminates in the evening with the sharp juxtaposition of red and black. Red wins, pervasive on patent croc- print jackets and embroidered dresses.
Finally, freestyle expounds the theory of how accessories personalize the look: pointed shoes with a geometric heel, soft boots, ultra-high evening sock boots, belts with a metal eagle-logo and small and soft bags echoing the graphic prints of the dresses.
A vital, liberating energy runs through the collection, imagined as a repertoire of possibilities that every woman can interpret as she likes and feels.
Photos courtesy of Emporio Armani