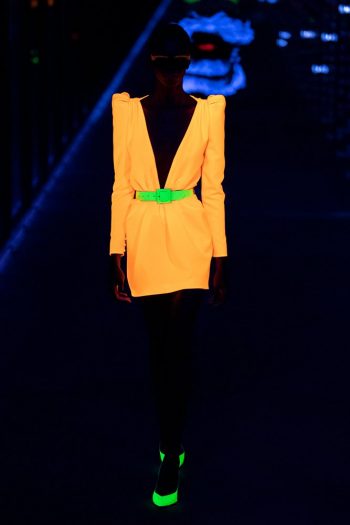 Trocadero. At the foot of the Eiffel Tower, Anthony Vaccarello presents his umpteenth homage to Yves Saint Laurent, including tributes to the historic Opium perfume and references to the 1971 Spring Haute Couture Collection Scandal.
On a specially lit night, the catwalk is filled with clones of Betty Catroux, Bianca Jagger and Catherine Deneuve, women who are strong and aware of their charm, dressing for themselves and for no one else. They choose silhouettes with sculptural lines, with the Eighties flavour, with the shoulders in the foreground that highlight the outerwear and the sculptural minidress. They play with menswear, tailored coats and suits worn on bare skin (it is impossible not to mention the white suit that recalls the iconic Bianca Jagger), but they scream their femininity with micro-shorts, transparent silk blouses, mesh tops, dresses hyper-sexy, vinyl blazer, sharp-cut trousers and a shower of crystals, maxi ruffles, sequins, bows.
Over 100 looks that also include many outfits dedicated to men, a young rock'n'roll that loves a tight fit, black and two-tone stripes, like the ones that make the micro jackets special, the same ones that were previewed in the video of Travis ScottCan't say.
Vaccarello pushes the accelerator on a great number of references (from YSL to Hedi Slimane), hedonistic fashion, designed for individuals with a strong personality and no matter whether they are men or women. What matters is that they have charisma and sex appeal. The show continues alternating various declinations of this mood, then, suddenly, the big cube built by the Maison Saint Laurent with a particular game of hidden lights and mirrors reveals a finale made of cocoon dresses, furs and feathers that remind very much of Monsieur Yves, but pop, in acid shades. An effect hovering between an eighties pop video and Yayoi Kusama that the front row full of celebrities applauds.
Images: Imaxtree