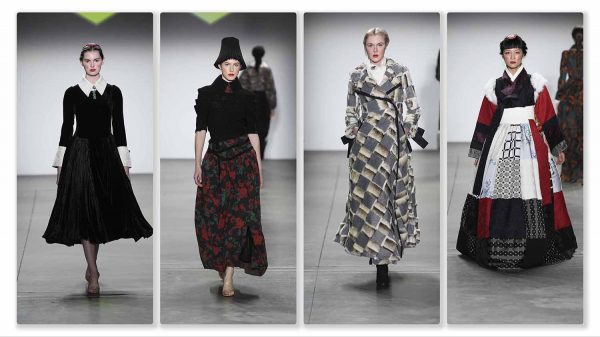 There are so many things I want to say about the Queenie Zoe By Bomin Kim Fall 2019 collection, but I don't know where to begin. Let me start with this is one of the most amazing collection I have seen from an emerging designer since I started covering fashion 20 years ago with my eyes in New York, London, Milan and Paris plus other cities in between.
The press notes described the Queenie Zoe Fall 2019 collection right on.
"Inspired by Samiljeol (Independence Movement Day in Korea) and the start of modernization for Korean women, creative director Bomin Kim has designed a series of gowns in a bold, feminine style. With references to traditional late 19th century silhouettes, elaborate empire line dresses with ruffled tiered godets and leg of mutton sleeves gave a sense of grandeur. Fur trims and large flouncy bows adorned the collection, and a velvet dress with exaggerated pointed collar brought beautiful contrast in black and white. The finale look incorporated a traditional Hanbok style dress with large oversized sleeves and patchwork fabrics."
As I have mentioned here before, fashion makes strange bedfellows and politics is one of them. Many have tried to make political statements on the catwalk, but no one had done it as beautiful and as subtle as Bomin Kim with her reference to Samiljeol.
It also made an oblique, light as a feather reference when the 19th century European movement "New Woman" reached Korea in 1920. Members of this movement in Korea were highly educated women who protested the Confucian patriarchal tradition.
Seeing the beautiful parade on the catwalk tracing the history of modernization of Korean women brought tears to my eyes.
To borrow from an old advertisement, it is fitting to say, "you've come a long way, baby!" And it took an emerging designer – Bomin Kim to bring feminism front and center without words, without insulting anyone and best of all, without the usual rhetoric of politics.
And like her statement which is light as a feather, Bomin Kim also showed a light touch with her Queenie Zoe Fall 2019 collection. The silhouettes are architectural, but she gave it a certain lift that it was almost flouncy.
Bravo Bomin Kim for a beautiful collection and for demonstrating that a wordless political statement supporting women's independence can be heard loud and clear.
Photos by Giovanni Giannoni, courtesy of Quennie Zoe