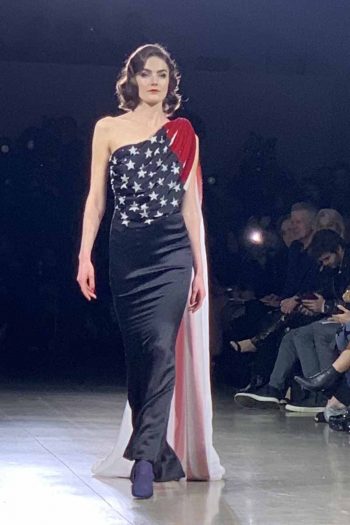 "I created this patriotic collection as a tribute to the country that I love, that I called home the very first day I arrived in New York 38 years ago," wrote Zang Toi in his press notes.
So, when the background music played "America The Beautiful," it was expected, even anticipated. Some members of the audience even mouthing the words. There were smiles all around. After all, in this predominantly American audience, love for our country is something we share.
Opening with a Navy kid mohair sculpted floor length coat bordered with white blanket stripes layered over a navy/white handloomed cashmere/silk turtleneck mini dress, the model wearing Converse sneakers – Zang Toi set the tone of the collection – there will be a lot of firsts and a lot of tweaks to classic House of Toi silhouettes.
A first – sneakers on the catwalk. For the first time ever, Zang styled the models with sneakers… Converse Chuck Taylor to be exact, giving a nod to a quintessential American brand and to streetwear.
Second first – denim! Known for his use of luxe fabrics like cashmere and silk, seeing denim on a Zang Toi collection was another surprise.
Yet, though the sneakers and denim were unexpected, there were no raised eyebrows from the high street crowd. Call it the triumph of good tailoring and styling! The model was made up with the classic Veronica Lake look. The clothes are sharply tailored and polished.
Is this Zang's interpretation of streetwear? Maybe… but I believe it is his way of honoring American inventions. After all, it was the U.S. Rubber Company who invented the sneakers in 1892. As for denim, it is already common knowledge that Jacob Davis and Levi Strauss invented denim jeans in 1873.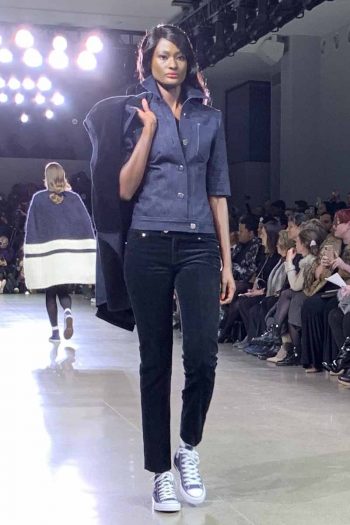 So yes, we are still very much in to the Americana theme. Zang has always presented a very tight and well-edited collection. Fall 2019 is not an exception; rather, it is the epitome of how detail oriented the New York-based designer is.
Basing the color palette on the U.S. flag's red, white and blue, Zang sent coats, trousers, dresses and gowns on the runway in what political pundits will describe as primary colors.
Going all out with denim, the Malaysian-born designer reinterpreted the trench coat in denim; he even threw in a denim car coat! The trucker jacket even made it but given a polished silhouette.
Those are the blues; for the reds and whites, Zang went for the luxury jugular and sent out cashmere, silk, wool crepe and fur. And yes, these luxe fabrics were also proposed in blue.
All these pumped up the audience. And with the music remaining to be on the patriotic side with God Bless America on top of the playlist, everyone was ready to put their right hand over their hearts to Pledge Allegiance to the Flag.
Instead they put their hands together and clapped as the grand finale came out – the Portrait of "All American Freedom Gown" which as you can see is inspired by the American flag.
It goes without saying that when Zang Toi came out to take his bow, he received a standing ovation. The first one to congratulate him was Donald Trump, Jr., who sat front row.
As I have said before, fashion do make strange bedfellows, and politics is one of them. This is not the first time that a designer had made a political statement on the catwalk.
Yet, this is not about being a Republican or Democrat, no matter who was sitting front row. It is about the love for an adopted country. This, I can relate with Zang Toi, because just like him, I was once an immigrant.
And I believe that the audience agrees, because I know for a fact that the guests belong to the whole political spectrum, not just one. They all stood, clapped and paid homage not only to a fine collection from a very talented designer but also the message: God Bless America, land that I love. God Bless America, my home sweet home.