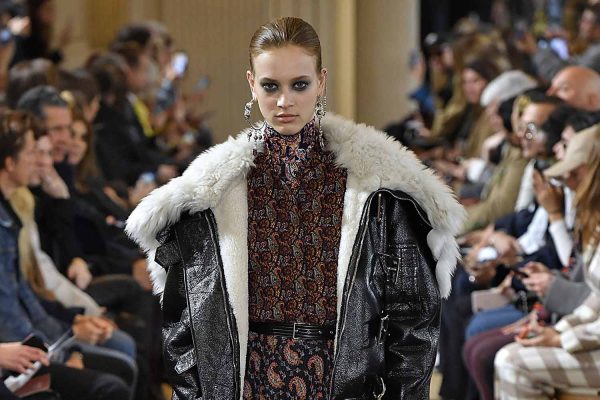 "This season, I wanted to convey a sense of freedom and individuality. I was drawn to the idea of toughness, the aesthetic of Mapplethorpe's photographs and the fetishization of leather, harnesses and biker gear. In stark contrast, I was also inspired by romance and glamour, harking back to another era, when dressing up was a way of life," wrote Joseph Altuzarra in his press notes.
If I did not know any better, I would say that the designer is a closet romantic. On second thoughts, perhaps he is. With his French heritage, the word romance has an edgy feel.
That's why his inspirations are varied and from the opposite ends of the spectrum. A less capable designer will just make it an eclectic collection. In Altuzarra's hands, it became tight and fit together like a glove.
The opening look, a pleated dress in a patchwork of paisley "Tattoo" prints topped with a lacquered shearling bomber, sets the tone for a collection built on opposing ideas: toughness and romance, irreverence and glamour.
This tension is central to the collection. Leather jackets and coats, fringed and adorned with buckles, and oversized shearling parkas are brought together with soft pleated lamé dresses and draped patchworked jersey tops.
This juxtaposition is heightened as the different worlds in the collection begin to collide and transition within one garment: cable knits are needle-punched into lurex pleats, fusing their fibers, and giving the illusion of one texture melding into another; a Hawaiian brocade coat fades into an embroidered check at the hem, as if disintegrating; silver and gold sequins slowly transform into paisley "Tattoo" prints on draped mini dresses.
Many of the looks are grounded with buckled flat boots and low sandals, amplifying the confident spirit of the collection. The PLAY bag makes its runway debut, echoing the collection's duality. Sensual in nature, it is distinguished by its soft and exaggerated hobo shape. In contrast to its organic silhouette, a row of metal buckles resembling bondage straps cinches the bottom and sides of the bag.
Photos courtesy of Altuzzara