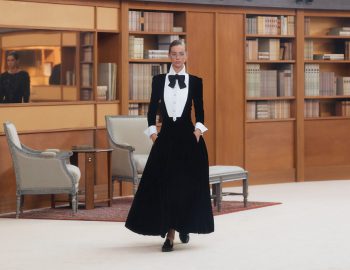 Just over two months ago in Shanghai, we sat down with the President of Fashion at Chanel, Bruno Pavlovsky, for the opening of "Mademoiselle Privé." It was just weeks after the passing of Karl Lagerfeld. He said then of Virginie Viard taking over artistic direction for the house, "I'm sure you will see something different. Virginie is the same, but she is different. She will probably bring some femininity to the Chanel look, but that will still be the Chanel look designed by Karl." Walking in to the Grand Palais for the Haute Couture Fall/Winter 2019 show, special guests took a deep breath, returning to the site they saw Lagerfeld's last collection in. But it was time for a new chapter; a turning of the page in Chanel history. What more appropriately said the start of a new chapter than the setting of the show—a circular library filled with sweeping shelves of supposition, ideology, theory, poetry, and ultimately, history. Surrounded by text from hundreds of years of global culture.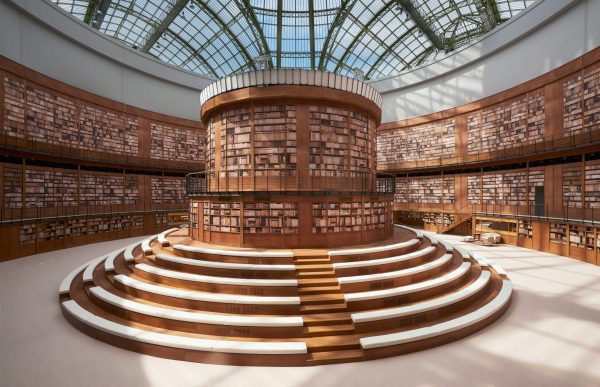 Lagerfeld, similar to Gabrielle, was also a book lover. The late designer had nearly 30,000 books, dotted with biographies, art books, and fashion texts. For nearly 30 years, he shared this passion with Viard, who thoughtfully paid tribute to the history of literature and book collecting with the new collection. "I dreamed about a woman with nonchalant elegance and a fluid and free silhouette—everything I like about the Chanel allure," said Viard.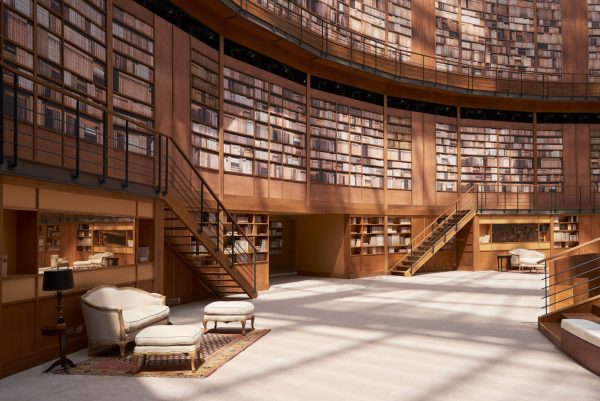 From the start, undivided attention was paid to the show, anticipating Viard's femininity and hints of Lagerfeld peeking out to remind us he's still here. Alas, it was feminine, it was Viard, but yet, still, we saw bits of the Lagerfeld legacy. In a living room-like space, we saw parts of Gabrielle, too, in her apartment on rue Cambon—both her and her texts. And much like the pages of a great read, one by one, the looks turned to change the storyline ahead.
Feminine and modern, deliberate and sophisticated, today's Chanel woman is unapologetically chic. Fluid volumes and shapes, highlighted with belts and bows, were seen in black, white, navy blue, burgundy, and plum. Hints of pink, blue, green, orange, and even fuchsia, were between flashes of silver and gold. The savoir-fair of haute couture—the crown jewel of what makes it what it is—was honored in fabrics, cuts, layers, and textures. Delicate georgette pleats met our eye before double-sided fabrics, layers of organza, and textured lace did. Multicolored embroidery and feathers were coupled and reworked to create florals in varying shades. Tweed coats, both straight and wraparound, toyed with masculinity as they skimmed the floor.
Buttons in the shade of printer's paper are seen donning several looks. Jackets, with layered collars and pointed shoulders, were left partially open. And the coveted tweed motif was seen anew—mysterious in jackets, coats, and two-toned dresses. Tactile velvet skirts, wool crêpe dresses, and the coveted tweed pieces were lightened by white lace, chiffon, and layered feuilleté cuffs. Short-sleeved sweaters in embroidered wool were followed by always-belted backless dresses in satin. Indoor and outdoor settings were blurred by intimate and carefree lace dresses and sheaths, topped with capes, coats, and bomber jackets.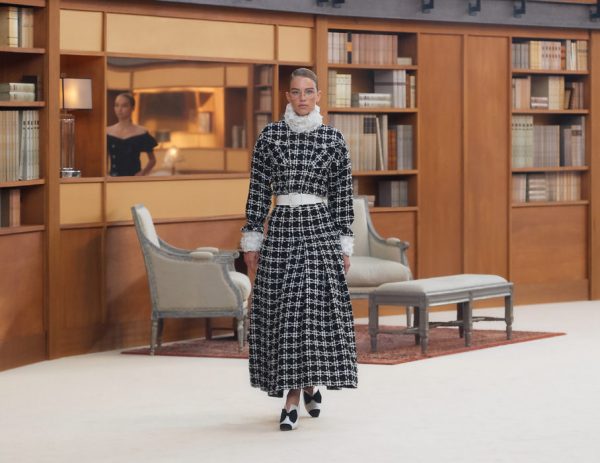 The finale, an anticipated bride each season, awoke the crowd once more. With blithe bliss, she appeared in pale pink—a satin pajama set veiled with a pleated robe embellished with feathers. She glided by, a vision of nonchalance, elegance, and happiness. And just like that, another page has turned. History is in the making.
VIA: WhiteWall