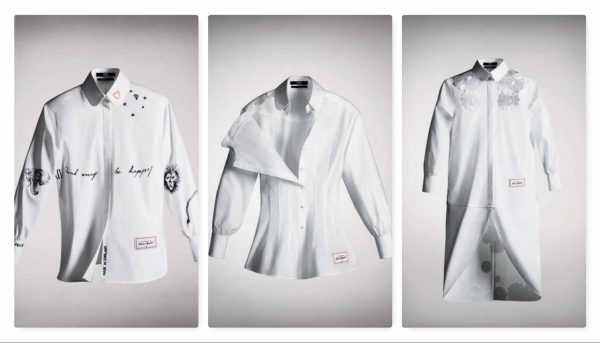 On September 25, a tribute to the late fashion icon Karl Lagerfeld will debut during Paris Fashion Week at Maison KARL LAGERFELD. "A Tribute to Karl Lagerfeld: The White Shirt Project" is the product of a partnership with Farfetch, seeking to honor Lagerfeld by bringing together a community of his friends and family, including Gigi Hadid, Jean-Baptiste Mondino, Olivia Palermo, Kaia Gerber, and others.
"If you ask me what I'd most like to have invented in fashion, I'd say the white shirt.  For me, the white shirt is the basis of everything. Everything else comes after." – KARL LAGERFELD
Inspired by Lagerfeld's own words, each participant created their own white shirt as a way to embody their memories of the late creative. Along with an exhibition of the designs (which will appear in other KARL LAGERFELD locations after its debut in Paris), the tribute includes a seven-piece collection, available exclusively online at Farfetch and the house's own website.
Of the seven white shirts for sale, each piece is one of 77 replications designed by Carine Roitfeld, Tommy Hilfiger, Sébastien Jondeau, Cara Delevingne, Diane Kruger, Kate Moss, and Takashi Murakami. Styles in the collection include a version with a waist cinched with darts by Roitfeld, an iteration with Murakami's famous flowers on the back of a long white tunic, and more. All proceeds from the collection will go to the Sauver la Vie charity at Paris Descartes University—an initiative Lagerfeld personally supported for years.