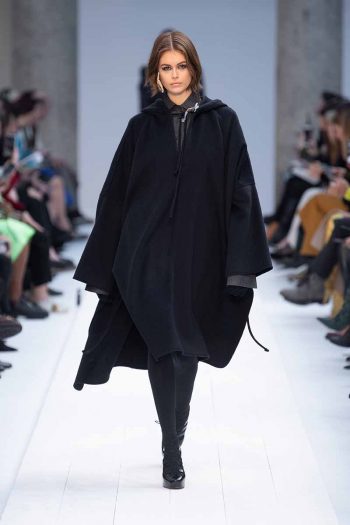 To Christopher Marlowe, it was Helen of Troy's "face that launched a thousand ships." Yet, if we listen to other artists that include painters, poets and philosophers, composers, cartoonists and crooners from Shakespeare to Stevie Nicks, TS Eliot to Tracy Emin, Jeanette Winterson to Jean Genet – it's actually mankind's fascination with that sea itself that launched those ships.
Max Mara shares their fascination. As proof – its Fall/Winter 2020-21 collection has been inspired by the sea with the Max Mara woman dreams of running away to the sea. A little tired of the hidebound conventions of corporate life, Ms. Max Mara dreams of being captain of her own, ruling the waves and making her fortune.
And what's in this latter-day adventurer's wardrobe? Well, the maritime theme yields a variety of silhouettes and a newer way to mix Max Mara's signature camel, grey, white and, naturally, navy. There are coats of all kinds; officer class greatcoats, capes, cabans, and duffels with toggles and tassels.
Luxuriant robe-de-chambres are tied at the waist with an elegant rope. Ruffles and gathers lend debonair swagger to the shoulders and sleeves of camel hair classics, pinstripe jackets and a skirts with hemlines that dip dramatically on one side.
A capacious Max Mara doudoune is perfect for the harshest inclemencies – its outer shell is resilient nylon, but its wadding is a cashmere fleece. Of course, an epic sea adventure requires a fair amount of stowage. Hence Max Mara's Marine bag capacious and soft but with structure like a ship's keel.
The ocean is a potent metaphor for the human condition, hazard and hope, love and longing, valor and vain gloriousness. Tales of ships and sailors are universal. "In civilizations without boats," Michel Foucault observed, "dreams dry up."
With Ms. Mara dreaming of ships and the sea, then we know that she continues to daydream and visualize a successful future.
The Max Mara Fall/Winter 2020 collection was unveiled in Milan on February 20, 2020 during Milan Fashion Week.
Photos courtesy of Max Mara