Fashion is a system that possesses its own symbols and myths. One of the longest-lived, as well as one of the most important, is that of the front row: always, those who are seated in the front row are more relevant than those who are made to sit in the second. But this year Balenciaga has deconstructed this myth.
The set of the show created by Nicke Bildstein-Zaar featured a fully flooded catwalk, with the water level covering the first two rows of seats – a powerful political message about sustainability and global warming whose apocalyptics tones were reinforced by the LED screen suspended on the catwalk that reproduced images of flames and menacing clouds. But as well as a statement about the phenomenon of climate change, making the first rows of the parade unusable, with guests closer to the catwalk at risk of being sprayed with water at every step made by the models, is a criticism to the myth of the first row and its traditional status symbol.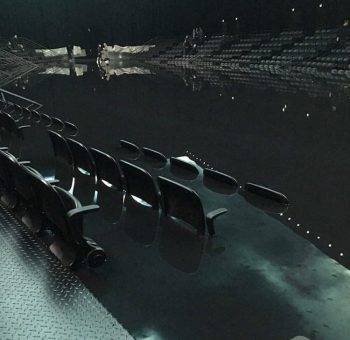 The statement towards the fashion system is very strong: the most important and closest guests to the catwalk were also the closest to the the water, as if to emphasize that who is most important within the fashion system is so much more responsible for the damage that the fashion industry does to the planet.
This show is the end point of previous reflections on sustainability and modern society carried out by Balenciaga and started ideally with the sofa stuffed with factory scraps brought by Harry Nuriev to Art Basel in Miami and continue first with the brand's SS20 show set in a room reminiscent of the European Parliament and finally with the recent campaign-news in which the question "Where is the water going?" appeared. Yesterday's show responded by reconnecting to the theme of water and putting fashion insiders no longer in front of but within the problem making them consider how, in the face of the threat of an environmental disaster, the concepts of glamour and social status would be the first to "sink."
Balenciaga show was one of those in which the set design overtakes the collection, almost surpassing it in importance, and bringing the concept of fashion show closer to the performance art than at the commercial presentation of a luxury clothing line.