While Pantone is pushing Classic Blue for 2020, another color is taking over. We're talking about butter yellow. Forget the pastel and more golden varieties of the sunny hue, the more middle-of-the-road shade is taking center stage.
It's called butter yellow because it resembles the shade of, you guessed it, butter. And it's surprisingly versatile. Designers like Simon Porte Jacquemus and Daniel Lee offered up seasonally-appropriate dresses and shorts in the buttery hue as part of the Jacquemus and Bottega Veneta Spring 2020 collections, respectively.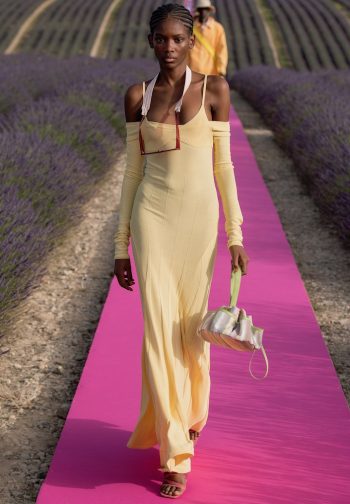 Naturally, the street style set was already all over the trend while checking out the Fall 2020 shows. So be prepared to see the hot hue into summer and maybe even as far as fall. (That means that butter yellow lightweight sweater will look just as good out on the streets in a few months as it does while you're working from home.)
You already can find everything in butter yellow. We checked the online stores and spotted jeans, dresses, bags, bike shorts, ballet flats and more in the color of the moment. And it's relatively easy to work the smooth shade into your wardrobe.