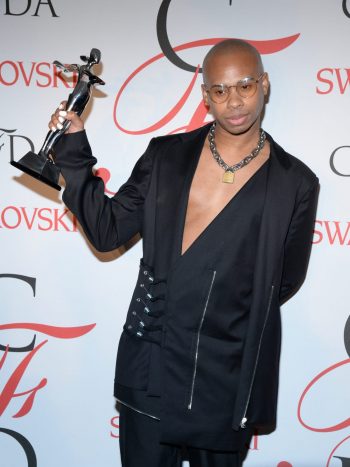 The announcement,  a few days ago,   of the return of Hood By Air,  the brand founded in 2006 in New York by Shayne Oliver and Raul Lopez,  that three years ago had officially retired,  was welcomed with great enthusiasm. Although the news is not entirely surprising – Oliver had spoken of a possible return of the brand previously
Born in the early 2000's in the New York creative and queer scene, Hood By Air was a melting pot of different styles, inspirations and aesthetics.  A faithful reflection of the liveliness of the city.  Oliver's brand consisted of two different lines: Hood By Air,  the 'high' collection,  the one presented on the NYFW catwalks and sold by retailers of the calibre of Barney's; and HBA, the more casual line.
Oliver had made a name for himself as a difficult designer to work with,  but according to the vision of the same creative,  the industry has always found it difficult,  if not impossible,  to accept a black,  queer,  opinionated designer. Oliver has never hidden his feelings towards the fashion industry,  in particular the American one,  ready to reward independent designers, but totally unable to support small businesses on a structural level,  a controversy rekindled even in recent weeks following the Black protests Lives Matter.
The new Hood By Air
Oliver has continued to collaborate with important brands,  from Colmar to Diesel and Helmut Lang. Oliver has joined forces once again with the partners that contributed to the success of Hood By Air,  Ian Isiah and Akeem Smith,  and is now ready to relaunch the brand,  which will consist of four different chapters.  Hood By Air will be the heart of the project,  the name under which products,  collections and events will be presented;  HBA will be a direct-to-consumer platform with specific customer experiences linked to an annual theme;  Museum will instead be the section dedicated to the brand's archival pieces;  while Anonymous Club will take care of the promotion of new talents,  through a digital community.
After a three-year hiatus, the return of Hood By Air will celebrate the launch of a capsule collection of T-shirts,  part of the beneficial Uprising project,  an initiative through which the brand wants to offer support to marginalized communities.