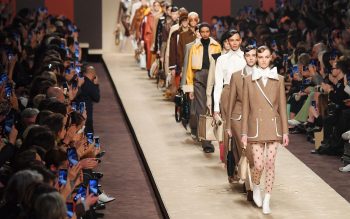 The official confirmation has arrived from the British Fashion Council that London Fashion Week will also be completely digital, as will Paris Fashion Week. This will leave Milan Fashion Week, which will be held from January 15 to 19, as the only one in Europe to have physical events.
Most of them will actually be phygital, so shows without an audience, but Etro, Fendi (whose show will mark Kim Jones' debut) and K-Way will continue with the shows in attendance – although there is likely to be a very limited amount of audience.
Milan Fashion Week will also be in a minor tone, however, with a number of great absentees such as Marni, Versace, Armani, Jil Sander and Bottega Veneta, as well as Gucci, which had announced the abandonment of fashion week already at the beginning of the pandemic.
Among the big names remain, Prada, which will present the first men's collection co-designed with Raf Simons, Ermenegildo Zegna, Sunnei and MSGM – surrounded by a series of other shows that are fixed appointments and other newcomers.
In short, fashion seems to have found a suitable surrogate for physical shows, an answer, that of phygital, which nevertheless remains temporary.