According to the fashion resale site Lyst, among the most desirable products for the female audience is the Loewe Anagram basket bag, a maxi bag. The news itself should not be a source of surprise: in short, Mary Poppins' bag was so large that it could hold anything. While we do not live in a time in history when predicting the cyclicality of a trend is certainly more complicated, it is possible to try to outline a scenario in which what may or may not drive the market. And in times when the wearability of clothes and accessories is getting more and more over – thank you, Balenciaga – it is legitimate that the volumes of handbags are also stretching out of proportion. Loewe's model, in Arica palm and calfskin, succeeds precisely because it manages to provide ample capacity while staying in the triple digits priced at $770.
The maxi bag is positioned as a real alternative to the smaller bag depending on the occasion or personal taste. The fact that, on a general perception level, over bags are often associated with a more adult audience is belied by the latest public appearances of celebrities under 30 who have sported them. Recently Sydney Sweeney was spotted with a quilted lambskin Saint Laurent maxi tote bag that Miley Cyrus thoughtfully replicated.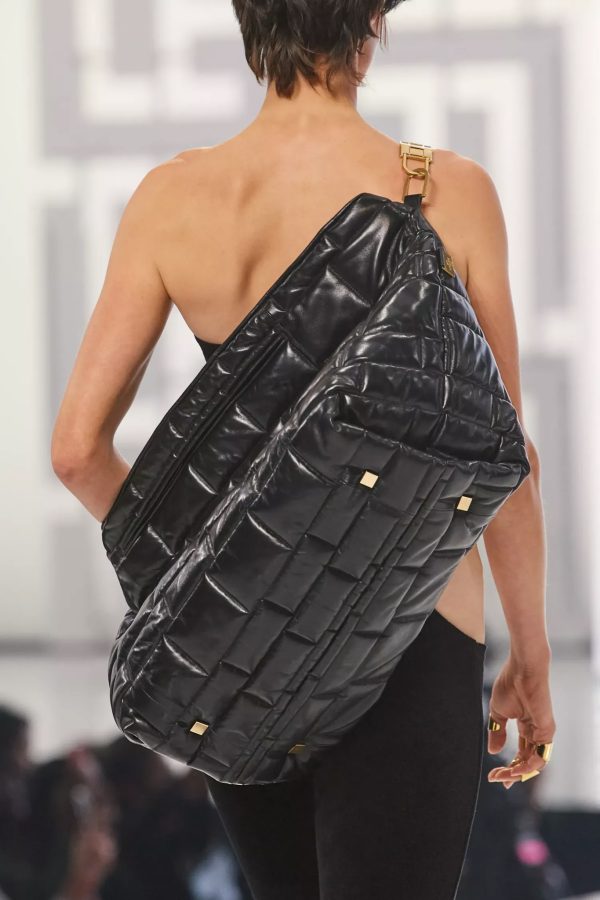 On the SS22 runways there was no shortage of them: Balmain, Richard Quinn, Salvatore Ferragamo, Fendi, The Row, Marni, Louis Vuitton, and even Peter Do – just to name a few – have all reinterpreted maxi bag designs, laying the groundwork for the rise of a trend. It was Bottega Veneta, however, that made the design so desirable that it wrote a compendium with its FW22 collection: woven or pillow-shaped, worn indiscriminately by men and women.