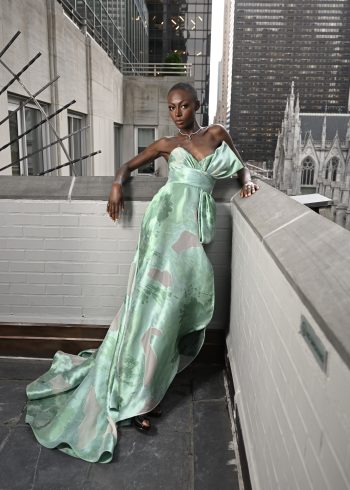 Kevan Hall, the legendary fashion visionary, once again captivated the world of fashion at New York Fashion Week with his latest Spring 2024 Collection: Cote d'Azur. This remarkable collection drew inspiration from the refined era of Deauville, France in the 1930s and was infused with the enduring glamour of the Cannes Film Festival, resulting in a breathtaking fusion of elegance and charm.
Elevating this season's opus, Kevan Hall collaborated with Chatham, the renowned luxury brand celebrated for its laboratory-grown gemstones and diamond jewelry. Chatham, with its legacy spanning over 80 years, is renowned for its ingenious fusion of art and science, positioning itself at the forefront of the industry.
"In the realm of luxury fashion, every detail must be impeccable, every facet exquisite. Collaborating with Chatham has been an honor as their commitment to excellence aligns seamlessly with my own dedication to timeless beauty and innovation," stated Hall.
The Spring 2024 Collection: Cote d'Azur, a masterpiece by Kevan Hall, took center stage at the recently concluded New York Fashion Week in September. This prestigious presentation showcased the harmonious fusion of Kevan Hall's artistic prowess and Chatham's unparalleled craftsmanship to a global audience of fashion enthusiasts and trendsetters.
Kevan Hall extends heartfelt gratitude to Nina Shoes for their generous contribution of heels that added the perfect finishing touch to the runway looks. Together, they invited connoisseurs of refinement to indulge in an era-less tapestry of artistry.
ABOUT KEVAN HALL
Detroit-born, Kevan Hall's fashion passion ignited in childhood, maturing into a haute couture innovator redefining glamour for a new era. He revitalized Halston as Design and Creative Director from 1998 to 2000, dressing luminaries like Celine Dion and Charlize Theron. Launching his own line in 2001, Hall's philosophy emphasizes pure style, impeccable tailoring, and sleek silhouettes.
Awards including the Gold Coast Fashion Award and "Stylemaker of the Year" highlight his impact. Hall's TV appearances, lectures at esteemed institutions, and leadership in initiatives like Black Design Collective underscore his influence. Today, his enduring collections cement Kevan Hall as a heritage brand of timeless elegance.
ABOUT CHATHAM
Chatham masterfully combines art and science. They are the leading luxury brand in laboratory-grown gemstones and diamond jewelry, offering unique designs ranging from classic to contemporary. 
Chatham is the original architect of the gem-growing industry. Over 80 years ago, Carroll Chatham introduced the world to laboratory grown emeralds. By duplicating the conditions deep within the earth, his laboratory succeeded in growing a variety of the finest gems over the course of a year's time. A discovery so unique, it remains a secret to this day. Today, Chatham is recognized as the industry leader in luxury lab grown gemstones and diamond jewelry.