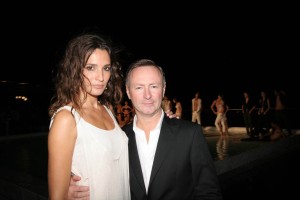 NEW YORK & RIO DE JANEIRO, Oct 27, 2009 / FW / — Leaves might be changing for fall in the northern hemisphere, but across the equator, it is warming up for spring and summer. And Kevin Carrigan, the Global Creative Director for Calvin Klein Jeans just made it hotter at Rio de Janeiro with the first ever Calvin Klein Jeans & Calvin Klein Underwear event at the Marvelous City (Cidade Maravilhosa).
In an exclusive cocktail party at the Hotel Fasano Rooftop, overlooking the ocean at sunset, it was a torridly romantic scene with a mix of twenty Brazilian and international models who were impactfully posed in the pool wearing Calvin Klein Jeans and Calvin Klein Underwear.
With Kevin Carrigan, the Global Creative Director for Calvin Klein Jeans; and Francisco Costa, the Women's Creative Director, Calvin Klein Collection acting as hosts for the evening, they welcomed model/photographer Astrid Munoz, who was wardrobed in a Calvin Klein Jeans dress, Cristine Fernandes, Carolina Ferraz, Rie Rasmussen, Paula Bezerra de Mello, and Eliana who were all wardrobed in Calvin Klein Collection.
They also received Wanessa Camargo, Marcus Buaiz, designers Alexandre Herchcovitch, Givenchy's Riccardo Tisci, and Dudu Bertholini; photographer Mario Testino; Camila Guebur; models Alessandra Ambrosio and Ana Claudia Michels; Katie Grand; Christian Lamb; Vogue Brasil's Patricia Carta and Giovanni Frasson; Vanity Fair's Michael Roberts; The New York Times' Bob Morris; Alexandre Brett; and Caca Ribeiro.
The evening's music was provided by renowned DJ Steve Mackey provided the music for the evening.
[MARI DAVIS]
Photos: (c) 2009 Vera Donato