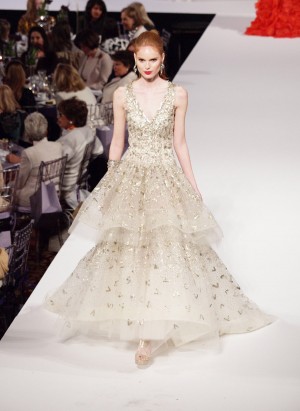 NEW YORK, Apr 29, 2010 / — The Crohn's & Colitis Foundation of America, Greater New York Chapter presented its 17th Annual Women of Distinction Luncheon Wednesday, Apr 28th to honor outstanding individuals who work to find a cure for Crohn's disease andulcerative colitis.
The luncheon, held at the Waldorf-Astoria was hosted by Cynthia McFadden, Co-Anchor, ABC, Primetime & Nightline and honored the following:
The Woman of Distinction Award: Ellen Crown, Philanthropist and CCFA Board Member
The Woman of Distinction in Business Award: Karen Peetz, CEO, Financial Markets & Treasury Services, BNY Mellon
The Rising Star Award: Alexa Maizes, 12-year-old Crohn's disease patient whose original note cards and artwork benefit CCFA.
Also in attendance was Honorary Chairs Jim Gold, President and CEO of Bergdorf Goodman, and Nancy Brown, Chair Emeritus of the Greater New York Chapter of the Foundation, Luncheon Chairs, Elyse Newhouse, Carolyn Rowan, Michelle Swarzman, and Michele Sweetwood all of whom have been personally affected by Crohn's disease and ulcerative colitis as well as socials including Tinsley Mortimer, Lizzie Tisch and Denise Rich.
The event included a fashion show presented by Bergdorf Goodman, featuring the Evening Collections of Andrew GN, CD Greene, Dior, J. Mendel, Jason Wu, Jay Ahr, Kaufman Franco, Naeem Kahn, Oscar de la Renta, and, Valentino; Jewelry by Sister Act Lorraine Schwartz and Ofira; and evening bags by Judith Leiber. Lorraine Scwartz, Jason Wu, CD Greene, Naeem Kahn and Kaufman Franco were present to watch their collections make their way down the runway.
Each year, over 30,000 new Crohn's disease or ulcerative colitis cases are diagnosed. These diseases do not discriminate based on sex, race, or age. Nearly 150,000 of the 1.4 million Americans currently suffering are under the age of 18, and patients must endure the ups-and-downs of living with a chronic disease for which there is no cure.
Photo by Rob Rich 2010