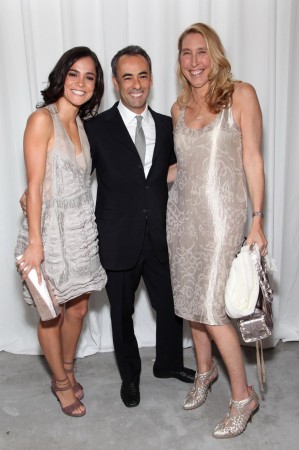 DALLAS, Apr 23, 2010 / FW/ — Thursday night, the New Museum's 2010 Spring Gala was held at 7 World Trade in New York City with a Brazilian theme for the evening.
Native Brazilians – Francisco Costa, the Women's Creative Director of Calvin Klein Collection, and Alice Braga – served as the honorary co-chairs for the evening, while Amanda Brooks, Anh Duong, and Yvonne Force Villareal served as honorary committee members.
With Francisco Costa around, it's not surprising that the ladies were wearing Calvin Klein Collection that was designed by Costa. Desiree Rogers, Alice Braga, Anh Duong, Amanda Brooks, Lisa Phillips, Angela Westwater, and Yvonne Force Villareal were all wardrobed by Calvin Klein Collection.
Sex & the City 2 is schedule to hit theaters on May 27 and the movie studio had released a new poster for the film.
Headlined by Sarah Jessica Parker, the poster features the iconic star wearing an Emilio Pucci dress from the Fall 2009 / Winter 2010 collection.
SJP's character, Carrie Bradshaw also wears the dress in an important scene in the upcoming film.
Meanwhile in Los Angeles, Hayden Panettiere attended the presentation of the "Global Home Tree" Earth Day VIP Reception hosted by James Cameron at L.A. Live wearing an Emilio Pucci dress from the Pre-Fall 2010 Collection.
[MARI DAVIS]