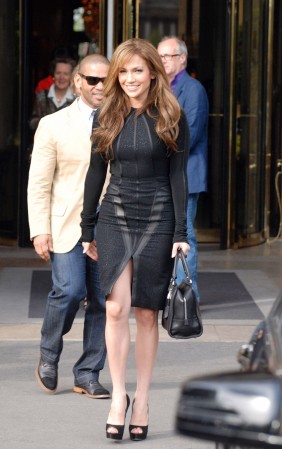 DALLAS, Apr 27, 2010 / FW/ — Jennifer Lopez rules! Last week, on Apr 22nd, as a guest at the George "Lopez Tonight" show, Jennifer Lopez wore a nude Gianfranco Ferré dress from the Spring / Summer 2010 Collection.
Yesterday in Paris, the star of "The Back-up Plan" was seen wearing a black Gianfranco Ferré dress from the Fall 2010 / Winter 2011 Collection when she arrived at Hotel Crillon.
When she left Hotel Crillon, La Lopez opted to wear Emilio Pucci black thigh high boots from the Fall 2009 collection. Whew!!! Jennifer Lopez is one busy woman.
Meanwhile, in our side of the pond, Academy Award nominee Anna Kendrick was spotted in Vancouver wearing Genetic Denim's "The James" Recessive Zipper Cigarette Jeans in onyx.
Speaking of Vancouver, South Korean figure skater Yuna Kim, who shot to world fame when she won the gold for Women's Figure Skating at the Vancouver Winter Olympics, was photographed for Vogue Korea wearing Lie Sang Bong, famed South Korean designer who is based in Paris.
In fact, in almost all the shots for the shoot, Yuna was wearing pieces from the Lie Sang Bong Fall 2010 collection that was unveiled in Paris last March.
And just for figure skating fans, Yuna Kim captured the audience at the Songpa Olympics Park in Seoul during the 2010 Ice Fest when she performed on ice wearing Lie Sang Bong.
In fact, the other skaters were all wearing Lie Sang Bong, proving that the Fall 2010 collection is not just high fashion; it is also high performance.
[MARI DAVIS]