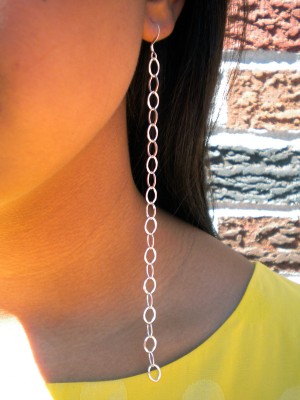 DALLAS, Apr 21, 2010 / FW/ — Since time immemorial, jewelry denotes different things to different civilizations. In Norse mythology, jewelry is just for the gods, in biblical times, it showed rank, in medieval Europe, the ring bearing the crest of a royal household signified power.
For the 21st century world, wearing jewelry references a little bit of humankind's history yet there is also individualism, thus designer Claudia Gill's belief that jewelry is a form of self expression is as valid as other viewpoints.
Inspired by a love for beauty, clean lines and real women, Claudia Gill is a self-taught jewelry designer who drew inspiration from anything and everything that catches her eye.
With the driving ideal that jewelry can make or break an outfit, Claudia Gill started creating whimsical pieces that can be worn alone or in conjunction with other pieces, depending on the wearer's personality and/ or occasion.
Every piece is handmade. From concept to execution, every piece is created in the Designer's studio. This gives the Claudia Gill Designs collections a certain exclusivity, due to the fact that her pieces are not manufactured in large quantities.
Always using Sterling Silver and Gold Filled in her designs, Claudia creates her pieces using the finest of materials, such as Swarovski Crystal Components, Horn Components, Shell, Leather, and many more.
Claudia's love for Jewelry Design grew while pursuing her Bachelor's degree in Fashion design From Miami International University. Through school, she entered a Jewelry Design contest, and fell in love with the concept of jewelry Design.
[MARI DAVIS]
Photos courtesy of Claudia Gill Designs