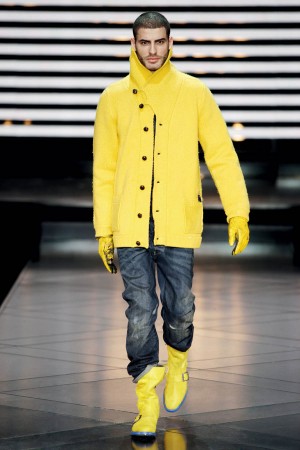 NEW YORK, Apr 17, 2010 / FW/ — For Fall/Winter 2010, G-Star proposes an extensive selection of denim and denim-complementary garments gives men the opportunity to build a unique personal wardrobe that ranges from hardcore street-wear to high-end tailored sophistication.
The fresh colors of G-Star's experimental NY RAW couture collection – launched at New York Fashion Week – have been carried through into the Fall/Winter mainline. Strong Bright Yellow, Nassau Blue and Car Green garments are added to a selection of new luxury light denim washes to complement G-Star's traditionally dark denim palette.
RAW Essentials reclaims G-Star's territory of high-end denim specialist; Organic RAW blends sustainable denim with work-wear styling; Correct Line presents a range of denim-complementary, tailored pieces; and Jail Elwood recalls G-Star's hardcore heritage with a range built around 'destroyed denim'.
RAW ESSENTIALS – SIGNATURE DENIM
From its inception, G-Star set out to reposition denim as a luxury, craftsmanship-led product. Today, G-Star recaptures this pioneering spirit and reclaims its high-end denim territory with the new RAW Essentials range. This special 'no compromise' program takes the finest selvedge denim and adds supreme craftsmanship, washings and trimmings to create the pinnacle of G-Star's denim range.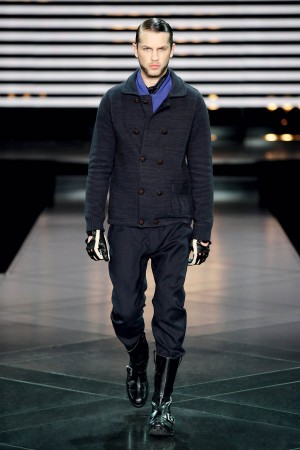 Vintage influences are mixed with a modern, big-city street style to create a range that avoids the "boring authentic replicas" trap, basing pant styles around the distinctive low-crotch, tapered-leg silhouette unique to G-Star. A selection of jerseys, shirts, knits and jackets with the same spirit complement the denim selection, including the duffel-style Essential Coat and heavy wool Highbury Cardigan Knit, both available in a fresh yellow.
ORGANIC RAW – SUSTAINABLE DENIM
For Fall/Winter 2010, Organic RAW plays with the concept of 'Inside-Out', taking architectural and craftsmanship details usually hidden from view on the inside of garments, such as bindings, hem turnings and lining shapes, and instead placing them on the outside. In the men's range, this idea is fully explored on the Organic Inside-Out Tapered pant and is visible on the collars, hems and seams of other pieces.
Chambray denim jackets and blazers emphasize their work-wear inspired roots with oversized detailing, including patched-on front pockets and rugged metal buttons, while shirts feature lengthened front pockets and vintage-style stud closures.
CORRECT LINE – DRESSING UP DENIM
The Correct Line range builds upon the wardrobe staples of jackets, shirts and pants successfully launched last year, with a selection of low-crotch shorts and pants mated to jackets, including a traditional blazer, a sports-team blouson and a four-pocket military-style inspired by the iconic army M-65 field jacket. The CL p-coat in Lord Check recalls an English gentleman on the moors, with its mix of double-breasted formality and rugged woolen construction, while the New CL Short p-coat features soft but hard-wearing leather and the CL City Jacket a heavy wool herringbone with integrated knit collar.
G-STAR JAIL ELWOOD – HERITAGE DENIM
The Jail Elwood capsule collection emphasizes G-Star's hardcore roots, using heavily abraded and blunt-edge-scored 'Destroyed Denim' for its pants selection. The Jail Loose Tapered bases its distinctive 3-D leg silhouette on the influential Arc Pant, while the Jail Chino Loose adds patched-on front pockets and authentic detailing to the 'new for Fall/Winter 2010' Hank Loose Tapered cut.
A range of prison-style tops, shirts and knitwear in a tonal color palette of petrol blues and heather complement the denim base and the graphic use of the G-Star Elwood's original article number, '5620,' harks back to the brand's early history.