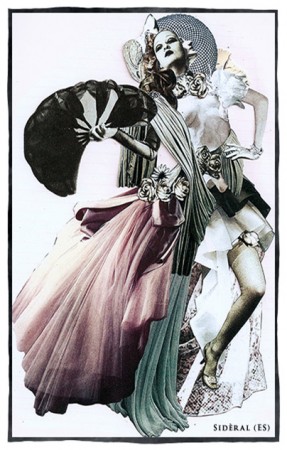 MILAN, Apr 23, 2010 / FW/ — ITS#NINE, short for International Talent Support 9th cycle has released the names of the finalists who will meet in Trieste, Italy, for the finals, 16 and 17 July 2010.
On 15 and 16 April in the EVE headquarters an international jury made up of professionals and insiders viewed the hundreds of projects arrived from 80 countries. 12 projects have been chosen for ITS#FASHION and 10 for ITS#ACCESSORIES
For the winners for the ITS#FASHION, Diesel will grant the winner €25,000 and a 6-month internship in the Diesel Creative Team at its headquarters in Molvena, Italy.
ITS#FASHION will offer other important prizes: Fashion Collection of the Year – €15,000 for the winner to develop a new collection to present at ITS#TEN (winner will be among the jurors) with a fashion show produced & organised by EVE. There are also the Fashion Special Prize of €5,000 and the Vertice Award.
For the winner of the ITS#ACCESSORIES, YKK will grant €10, 000 and a professional photo shoot for the winner. Other prize at stake is the Accessories Collection of the Year – €5,000 to create a new collection to be presented out of competition at ITS#TEN,
SWAROVSKI® ELEMENTS, the product brand for the world's finest loose crystals manufactured by Swarovski, will provide, upon request, all accessories finalists with SWAROVSKI® ELEMENTS for their collections.
FASHION Finalists

Michael Kampe – German
Hogeschool Antwerpen, Belgium
Niels Peeraer – Belgian
Hogeschool Antwerpen, Belgium
Nir Goeta – Israeli
Shenkar College of Engineering and Design, Israel
Juho Song – South Korean
Polimoda – International Institute for Fashion Design and Marketing, Italy
Takashi Nishiyama – Japanese
Coconogacco, Japan
Yong Kyun Shin – South Korean
Central St. Martins College of Art and Design, United Kingdom
Martina Spetlova – Czech
Central St. Martins College of Art and Design, United Kingdom
Astrid Andersen – Danish
Royal College of Art, United Kingdom
Sara Bro-Jorgensen – Danish
Royal College of Art, United Kingdom
Courtney McWilliams – British
Royal College of Art, United Kingdom
Hanna ter Meulen – Dutch
Royal College of Art, United Kingdom
Sideral(es) – Italian
Fashion Designer

ACCESSORIES Finalists

Heyoung Yun – South Korean
Polimoda – International Institute for Fashion Design and Marketing, Italy
Tomoko Tokuda – Japanese
Designer
Kirsty Ward – British
Central St. Martins College of Art and Design, United Kingdom
Rob Goodwin – British
London College of Fashion, United Kingdom
Si Kim – South Korean
London College of Fashion, United Kingdom
Yu Wen Lu – Taiwanese
London College of Fashion, United Kingdom
Keeley Smith – British
London College of Fashion, United Kingdom
Sarah Wiliams – British
London College of Fashion, United Kingdom
Zara Gorman – British
Royal College of Art, United Kingdom
Emma Yeo – British
Designer