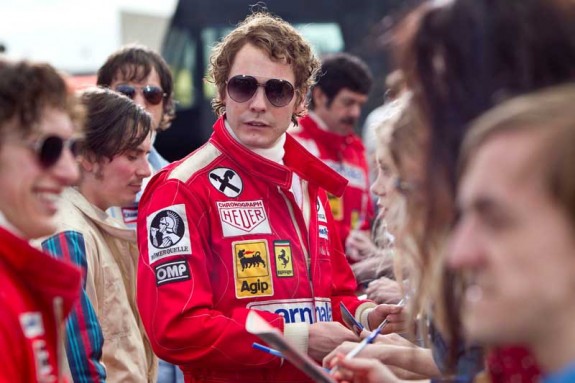 NEW YORK, July 18, 2013 / — Set against the sexy and glamorous golden age of Formula 1 racing, RUSH, a movie by two-time Academy Award winning director Ron Howard will hit theater worldwide in September.
Portraying the exhilarating true story of two of the greatest rivals the world has ever witnessed-handsome English playboy James Hunt played by Chris Hemsworth and his methodical, brilliant opponent, Niki Lauda played by Daniel Bruhl, RUSH stays true to the time with Carrera.
A favorite of Niki Lauda, Daniel Bruhl who plays the legendary race car driver wears a pair of Carrera 80 sunglasses in the movie. A re-edition of the "best of Carrera sunglasses" the Carrera 80 epitomizes the brand's racing attitude, with their teardrop shape, combined with interchangeable polarized lenses, for high-quality vision in any light condition.
The "Victory C® Logo" visible on the front is an unmistakable signature detail of the collection and a symbol of the brand's timeless style.
James Hunt's character wears a pair of teardrop-shaped injection-molded Carrera Speedway sunglasses, which stand out with their unique detail adorning the front and contrasting profiles on the front and temples.
Marlene Lauda, played by Alexandra Maria Lara, wears a pair of Carrera 16 steel/metal sunglasses, whose aviator-shaped frame is almost invisible, hidden behind the lenses, and is embellished with a double bridge bearing the embossed "C" logo on the front.