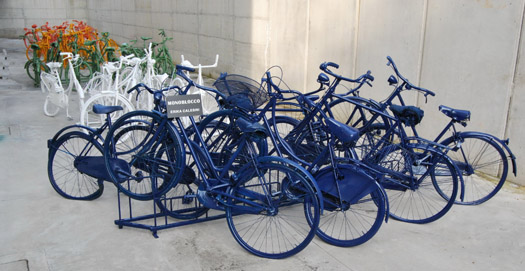 MILAN, Apr 27, 2010 / FW/ — Invented in 1817 by German Baron Karl von Drais, the bicycle is nearing its 200-year anniversary. It might be an old form of transportation, yet it is also of today as bicycle manufacturers and enthusiasts continue to make it more ergonomic.
Powered by humans, the bicycle almost has a zero carbon footprint as a mode of transportation. So, it is not surprising that the Italian Ministry of Environment has classified the bicycle as "sustainable mobility."
Hence, on its honor, and also as part of the Italian national heritage, today in Rome at 12:00 NN, Minister Stefania Prestigiacomo will declare May 9 as National Bicycle Day in Italy. At the proclamation, the various initiatives for occasion will be explained.
The National Bicycle Day is being organized by the Ministry of Environment in collaboration with ANCI (National Association of Italian Municipalities) and ANCMA (National Cycle motorcycle accessories). It is also the first time that the Ministry of Environment will join forces with the Tour of Italy (May 8 – 30, 2010) to promote the bicycle
For the National Bicycle Day, the artist Erika Calesina, known for using recycled bicycles in the realization of her works, is creating an installation piece that is being displayed at the Capitol Square to celebrate the occasion.
The installation "piece" consists of 36 eco-bikes in natural colors (green, yellow, orange, blue) to send a message of ecological and environmental sustainability.
The bicycles are the great love for Erika which to her is a symbol of freedom. This ancient but current means of transport, which flies, while at the same time slips and stands in the street, is present in many creations – worked, welded, speckled, flat presses, disassembled and reassembled, and then placed on canvas and wood metal.
[SARA CONDE]