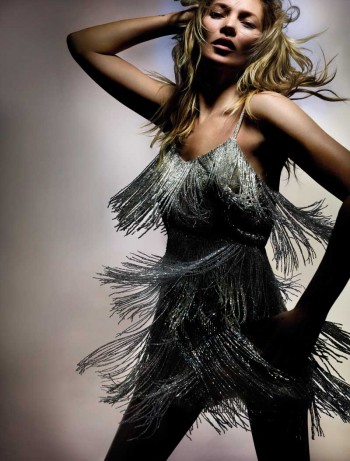 LONDON, Apr 16, 2014/ — "My first collection was seven years ago and I have grown up since then and things that I want to wear are different. It is a natural evolvement. I learnt a lot from my experience the first time around, so I didn't come in blind this time – I knew the process," commented Kate Moss on the eve of the unveiling of the Kate Moss TOPSHOP Spring/Summer 2014 collection.
Sold globally in all TOPSHOP stores and online at Topshop.com, the collection is expected to hit Nordstrom stores and Nordstrom.com on April 30th.
Firmly set apart from her previous Kate Moss TOPSHOP collections, Kate has worked hard with the TOPSHOP design and buying teams to deliver this much updated and more premium collection – re-affirming her unrivalled position as THE true British fashion icon.
Key design categories for this collection begin with Balearic Dressing, a reflection of Kate's love for the Balearic Islands comes a series of carefully embroidered smock-tops; silk blouses and a white kaftan that is based on a vintage find she wears every summer.
Pajama dressing adds a totally new element to the Kate Moss TOPSHOP range. Cocktail Hour is flirtatious and sexy with hemlines either slashed at the thigh or falling to the floor. Tailoring Noir introduces a beautiful selection of tailoring including tuxes and trouser suits in black and black gold metallic mixes, a bias cut liquid metallic lame dress and lame floral printed shirts – offering a chic, smart alternative to dressing up for a summer evening.
Kate's growing up as a designer is reflected in this more premium collection introduces the use of luxurious fabrics, including silk chiffons sourced in London Soho, gold lame from Italy and intricate lace from India.
Making the collection "More Kate" items based on Kate's wardrobe have been joined by vintage-inspired pieces that she herself finds difficult to find when shopping in second hand stores, because the lace is either ripped or sequins are falling off. So it was important to Kate that these items were added to her collection this season.
"I love the whole process of designing, from hanging out with the girls in the design team, building the concept, getting excited about seeing the various stages of sampling, making tweaks and improvements and then seeing the final collection coming together", said Kate Moss.
The butter-soft suede found in this collection, Kate felt offered a more lightweight choice over leather for summer; and a change from denim. The weave waistcoat is a real statement piece and epitomizes Kate's Seventies wardrobe staples.
The suede "runner" shorts, available in olive and black, carry a tiny braid detail down the sides, again stepping up the deluxe element for spring/summer. And the deep blue coloured fringed jacket references one she has worn to three Rolling Stones concerts and refers to as her "gig jacket".
Photos courtesy of Kate Moss TOPSHOP