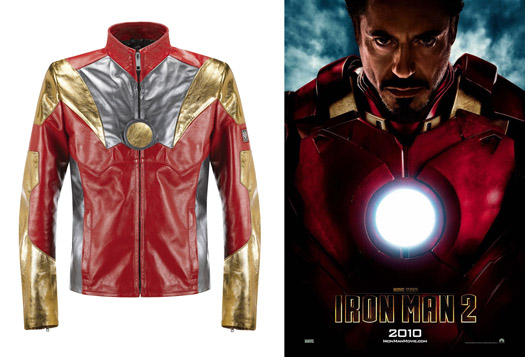 MILAN, May 5, 2010 / FW/ — A perennial favorite among Hollywood stars both on-screen and off-screen, Belstaff once again delves into stuff that dreams are made of with its new Belstaff IM2 Blouson, a jacket inspired by the Mark VI Iron Man suit.
Like the Mark VI suit, which protects Tony Stark (Robert Downey, Jr.) in some of the most electrifying scenes in Iron Man2, the official Belstaff Iron Man Jacket has been created using Belstaff's trademark design of combining protection with style.
And just like the Mark VI Iron Man suit, Belstaff Iron Man Jacket is handmade. Using the most durable yet finest leather in the Iron Man signature colors of red and gold, the limited edition Belstaff IM2 jacket is tagged with its own unique number and official Marvel trademark.
You don't have to be a billionaire like Tony Stark to have your own Iron Man Jacket but like Iron Man, you do need to be fast, as the Iron Man Jacket is strictly limited edition and only available from Belstaff flagship stores or on-line at www.Belstaff.com  
The Belstaff IM2 Blouson is available now at www.belstaff.com
[SARA CONDE]