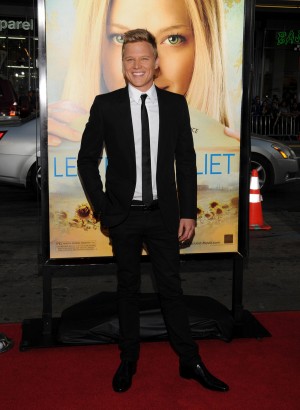 DALLAS, May 12, 2010 / FW/ — All eyes are in Cannes, but before we go to France, let's talk about those at home first.
Last night, at the Grauman's Chinese Theater in Hollywood, California, Christopher Egan arrived in a black suit, white shirt, and black tie from the Pre-Fall 2010 Calvin Klein Collection, designed by Italo Zucchelli, the brands' Men's Creative Director for the premiere of his latest film, "Letters to Juliet."
In Washington D.C., during Mother's Day, First Lady Michelle Obama wore a patchwork Moschino Cheap And Chic twill dress with front gather detail while hosting a Mother's Day event in the East Room of the White House on May 7, 2010.
This dress is from the Moschino Cheap And Chic Autumn/Winter 2010/2011 collection.
For those following Gossip Girl, then you know that the season finale is almost upon us, which means that the episodes are very exciting, and so is the fashion!
Monday night's episode of Gossip Girl found Blair Waldorf (played by Leighton Meester) as the center of attention among fashionistas with her Hutton Trench from the Erin Fetherston Spring/Summer 2010 collection.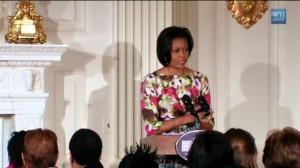 Leighton, as Queen Bee Blair Waldorf, looked like an Upper East Side princess in the floral printed pink belted coat.
The Hutton Trench (Look 11 from the SS10 collection) is seen here in Floral Cloque. Erin Fetherston retailers can be found at www.erinfetherston.com.
In the same episode, "Blair Waldorf" carried a style from the Amanda Pearl collection.
The Amanda Pearl "Samira" pasha clutch is available for purchase online at www.amandapearl.com and retails for $1598. To complete the look try the Amanda Pearl "Artemis Venus Necklace" and the carol marie "jewel bracelet".
Vionnet has officially become A-list celebrities' wardrobe of choice for appearance.
Today in Cannes, on the occasion of the press conference for the opening of the 63rd Cannes Film Festival, Italian actress, Giovanna Mezzogiorno, who is a member of the jury, wore a black silk jersey and midnight blue crêpe de chine dress and black suede sandals with gold leather trim from the Vionnet Spring/Summer 2010 collection.
On May 5th, at the 2010 Tony Awards Meet the Nominees Press Reception, Catherine Zeta-Jones wore a navy silk crepe dress from the Spring 2010 collection.
Carey Mulligan's custom Vionnet Fall 2010 signature floral print silk dress and black leather sash was donated to Oxfam in an effort to raise money for women's projects across the world, including India, Sri Lanka, West Africa, and Bangladesh.
Funds raised from the sale of the dress will go to impoverished women to help campaign against violence, to offer women the chance of an education, and empower them to fight HIV and AIDS.
The dress will be displayed at Selfridges in London as part of the week long Oxfam Curiosity Shop event from Friday, May 14, to Thursday, May 20 and will be auctioned on Thursday, May 13, 2010.
www.oxfam.org.uk/curiosityshop