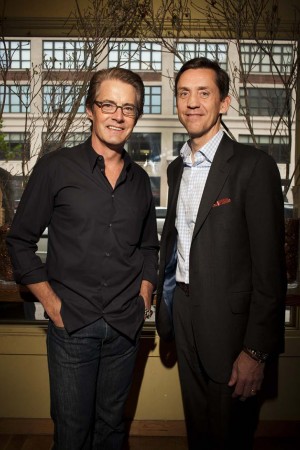 NEW YORK, May 18, 2010 / FW/ — With Kyle MacLachlan, Colum McCann, Adam Gopnik, Tom Shillue as the storytellers for the evening, The Moth, a not-for-profit storytelling organization held its story night on Monday, May 17th at the City Winery in New York City.
Sponsored by Cole Haan, the evening featured old-fashioned storytelling accompanied by wine chosen by special City Winery sommeliers.
On hand to entertain and share stories were internationally bestselling author Colum McCann, author and long-time writer for The New Yorker, Adam Gopnik, writer and comedian Tom Shillue, and actor Kyle MacLachlan, best known for his roles on hit TV shows Sex and the City and Desperate Housewives.
"Tonight's benefit was truly an inspirational evening. I am delighted to be here on behalf of Cole Haan, to support Common Cents, a non-profit organization that fosters community, children, and a love of learning," MacLachlan, who became a household name when he starred in the classic sci-fi film Dune, said.
The actor also recently joined advocates on Capitol Hill to press congress for increased funding for the National Endowment for the Arts. In fact, for last night's event, 100% of proceeds from ticket sales benefitted children's charity Common Cents.
Common Cents: www.commoncents.org
The Moth: www.themoth.org
[MARI DAVIS]
Photos by Denise Ofelia Mangen