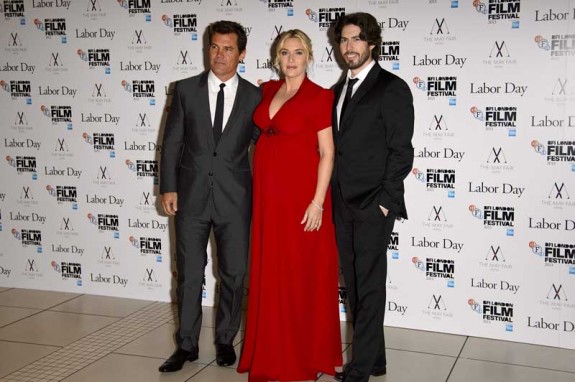 LONDON, Oct 15, 2013/ — Dressed in a red hot Jenny Packham gown and sparkling with De Beers diamonds, Kate Winslet, visibly pregnant with her third child joined co-star Josh Brolin and director Jason Reitman on the red carpet premiere of her latest movie, Labor Day.
A story of love, passion, and betrayal as seen through the eyes of a teenage boy and the man he later becomes. Henry looks back on his fateful 13th year, when he lived with his reclusive divorced mother.
Set in 1987 over the late summer holiday weekend, Labor Day opens with divorced, depressed single mom Adele clothes shopping with her 13-year-old son, Henry. They encounter a large, fearsome man who is bleeding badly, and against all judgment, they give him a ride to their home. The injured man is in fact an escaped convict from the local prison, and as the police search narrows, the mother and son gradually learn his true story and their options become more and more limited.
The film is scheduled to be limited released on December 25, 2013 in theaters, and a wide release on January 31, 2014 in the United States. The film is based on the novel by Joyce Maynard.
Photos by Getty Images