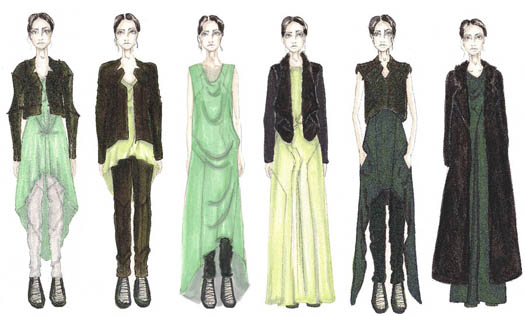 SAN FRANCISCO, May 3, 2011 / FW/ — Thursday, May 4th is a red-letter day for students at the School of Fashion at Academy of Art University with the Class of 2011 holding its graduation fashion show.
Ashley Jung, Brittany Burggraff, Cynthia Tran, Donna Dong Zhong, Drew Williams, Fayrouz Abi Assi, Inez Marie Galvez, Juhyun Park, Lisa Relth, Maggie Mo Luo, Margaret Yoha, Peter Ngyyen, Shannon Wong, and Stephanie Duarte, all members of the graduating class will make their debut on the runway as they present their graduation collection.
There will be 16 collections to be presented on the runway from 22 students as 5 of the collections are collaborations.
The School of Fashion creates collaborations to mimic the industry that students are about to enter and working with a design team. Collaborations have been created with textile, technical, knitwear and accessory designs students, as well as a group of women's or men's wear design students. These collaborations may be two students or a group of ten.
For more information, about the AAU Graduation Show, please log on:
http://www.fashionschooldaily.com/