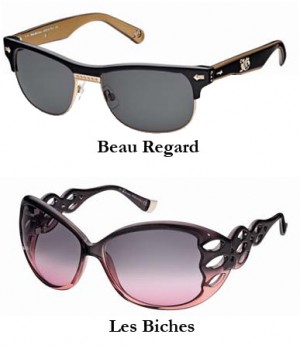 DALLAS, May 8, 2010 / FW/ — Always the storyteller, John Galliano draws inspiration from everywhere and everyone. For his eyewear line, the British designer's muses ranged from eccentric heiresses to ethnic beauties, and thus creating a collection that is quintessentially Galliano.
Describing eyewear in general, John Galliano said, "Sunglasses are the ultimate accessory and alibi. They are status symbols that exude luxury, as well as mystery. They protect the private gaze as well as frame an image of chic, anytime, anywhere."
And for his eyewear line, the iconic designer said, "I created pure Galliano Glamour, fusing function and high-fashion and morphing faces and frames to create the ultimate sunglasses collection. Day, night, any season, anywhere, strike a pose as long as it's in Galliano."
The 2010 Icon collection captures Galliano's spirit of innovation, exotic elegance and romance with a range that morphs into the many, yet unmistakable faces of his imagination.
The Heroine: Les Biches
'Les Biches' reflects Galliano's roots, Spanish heritage and the Flamenco. Enchanted by the doe-eyed girls and inspired by the French phrase 'oeil de biche', this exclusive new style is a dark and sultry oversize wrap shade, inspired by the fiery dancers' honeycomb crown.
Dark lenses blend to smoky arms and fade from greys to a delicate pink hue, giving the illusion of softly blushed cheeks. 'Les Biches' tell a story of seduction, mystery and femininity, finished with the JG logo seal of approval.
The Hero: Beau Regard
'Beau Regard' is the men's signature model combining Maison motifs with cinematic influences and temples in contrasting colours. Inspired by the 1960's Hollywood rebels and the legendary Rat Pack, these frames shade the sparkle of the modern man's roving eye. 'Beau Regard' leads to a different adventure, and a different icon. These are shades to turn heads as much as enhance the icon – overstated, upturned, or incognito.
With 18 new styles for the off-duty icon or flamenco dancer, to the everyday and extraordinary, all 2010 frames infuse the spirit of Galliano's innovative and eccentric soul.