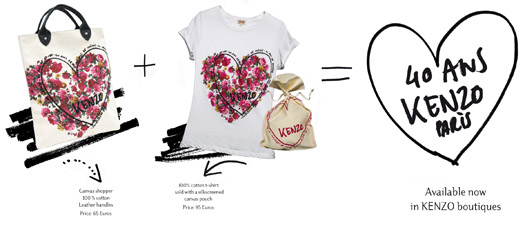 PARIS & DALLAS, May 25, 2010 / FW/ — Naomi Campbell is not the only one who hit 40 this year. The venerable Japanese fashion house Kenzo, which is based in Paris hits the BIG 4-0 this year, too.
But, instead of a big birthday bash in Cannes, Kenzo is celebrating it with new commemorative products – a new foulard, a canvas shopper and a Kenzo T-shirt with the distinctive painterly roses inside a heart.
The foulard was launched last April, and for May, Antonio Marras, Creative Director of Kenzo regales the label's fans with an eco-friendly canvas shopper. Made of 100% cotton with leather handles, the bag sells for 65 euros in all Kenzo boutiques.
And for those who wants to tell the world that THEY HEART KENZO, the commemorative Kenzo t-shirt is a must-have. Made of 100% cotton and sold with a silk screened canvas pouch, the Kenzo t-shirt can be had for 95 euros in all Kenzo boutiques.
[MARI DAVIS]