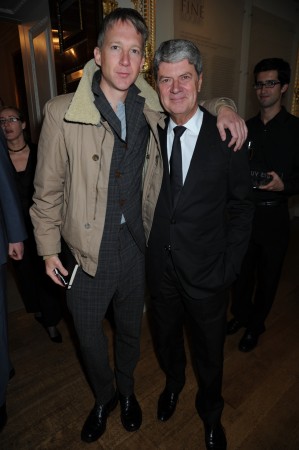 LONDON, May 13, 2010 / — Yesterday, Boris Johnson, Mayor of London, Margot Heller, Director of South London Gallery and Yves Carcelle, Chairman & CEO, Louis Vuitton jointly announced the launch of Louis Vuitton Young Arts Project, a new partnership between the iconic fashion house and five of London's leading cultural institutions.
With the leading art galleries – Hayward Gallery, Royal Academy of Arts, South London Gallery, Tate Britain and White Chapel Gallery – involved, Louis Vuitton Young Arts Project will allow young people from across London to gain invaluable experience within the arts.
The Louis Vuitton Young Arts Projects will see five panels of young people, all form different areas of London, interacting as part of a peer-led youth forum for the enjoyment and further understanding of art.
The five panels, one from each institution, comprise young people aged 13-25 recruited from local borough schools and community youth groups. The panels will collectively visit exhibitions at the five partner institutions, where they will be given exclusive tours and unprecedented access to the inner workings of the art world.
The panels will also be invited to creative sessions and site visits, led by high profile art world insiders, which will include artists, collectors and museum directors. Through additional focused workshops, the young people will help create a project website, complete with project title to be launched in 2011.
Of the project Louis Vuitton Chairman & CEO Yves Carcelle, says, "We are proud that the Louis Vuitton Young Arts Project has been formally endorses by the Office of the Mayor of London and the Arts Council of England."
"As a leader of the luxury industry, we believe that we naturally have a responsibility to the world around us. Moreover, transmitting savoir-faire and creative is one of our founding cornerstones. Preserving the past and preparing for a brighter future are fundamental values that have inspired us for more than 150 years. Supporting children and young people's future are one of our main actions worldwide. The Louis Vuitton Young Arts Project seeks to instill and nurture and exploration, enjoyment and passion for the arts among young people which they can take into adult life and perhaps follow as a career," Mr. Carcelle added.