DALLAS, May 9, 2010 / FW/ — Continuing their collaboration that began in 2009, Mykita and Bernhard Willhelm unveiled the MYKITA Bernhard Willhelm Fall /Winter 2010 eyewear collection.
Entitled the "Trans" collection, Bernhard Willhelm proposes new silhouettes for the men's sunglasses ALOIS, FRANZ and SEPP and for the women's style JANIS. New this season is LUCIDUS, a new unisex model.
Men: ALOIS, FRANZ and SEPP
Bernhard Willhelm's Autumn/Winter 2010 collections plays with elements echoed in the Yin and Yang, one significant symbol is the White Tiger, a celestial animal that represents the female Yin energy, as opposed to the male Yang energy. 2010 is the Year of the White Tiger, an animal that stands for courage, power, passion, change and royalty.
Opposing elements such as black and multi-coloured tigers, patterns such as Yin and Yang circles are combined, creating a "spiritual camouflage" or so called "Trans".
Bernhard Willhelm teamed up with MYKITA to upload this "Trans" energy into different sunglasses.
A new shape called ALOIS joins successful aviator models FRANZ and SEPP.
ALOIS is a shape related to its two brothers, but stands out due to is its very high nose. Finishing is either mat, hand applied lacquer for colours Brown, Green, or shiny metallic coating for colours Gold and Silver. New colours are a bright "jungle" Green, Silver and Brown, and carry over colour is the eternal Gold.
All lenses are fully mirrored Zeiss lenses of the highest quality. The brown colour lenses only feature a slight mirror effect, for people who prefer a more discreet look.
Women: JANIS
Round oversize model JANIS, named after Janis Joplin, is making another appearance. This season à la Yin and Yang, with a white frame with black lenses or totally black.
Unisex: LUCIDUS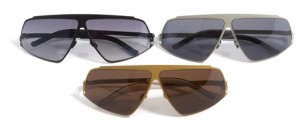 New unisex model LUCIDUS, a shape that is both futuristic and sporty, is joining this season's offer. Characterized by a temple positioned at the bottom corner of the frame, these wrap around shades look sleek and aerodynamic and can be worn on the streets as well as during sporty activities.
LUCIDUS is available in three mat lacquer coatings: Mustard, combined with a Solid Brown lens, Pebble grey combined with a Solid Black lens and Black featuring a Black Gradient lens.
All glasses are made of ultra thin and comfortable stainless steel, and handmade at the MYKITA HAUS in the heart of Berlin.