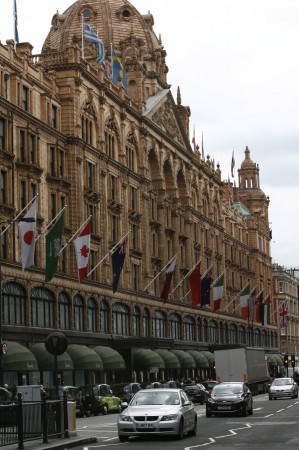 Harrods sold for £1.5 billion
LONDON, May 11, 2010 / — Mohamed al-Fayed had agreed to sell famed Knightsbridge department store for more than £1.5 billion (US$2.2 billion) to the royal family of Qatar, the London Times reported Sunday.
According to the same report, "Fayed was persuaded to sell after the Qataris pledged to underwrite the long-term growth of Harrods and protect the pay and pensions of its 5,000 staff."
Famous for its celebrity-endorsed sales, food hall and signature green bags, Harrods sells luxury items on seven floors spanning more than 1 million square feet of selling space.
Photo of Harrods by EAGLEPRESS
***
Gen Art to Close After 16 Years
NEW YORK, May 11, 2010 / — It is a sad day for fashionistas when Gen Art founders Ian and Stefan Gerard wrote an open letter to Gen Art supporters that they will be shuttering the 16-year old foundation due to "economic pressures related to the recession."
In the very short statement that Gen Art issued, Ian and Stefan Gerard said, "During this challenging time we did everything in our power to adjust our business to these new business realities by cutting costs and seeking out alternative funding solutions."
"However when a major, new, corporate partnership unexpectedly collapsed a few weeks ago, we found ourselves without sufficient resources or time to overcome this sudden and substantial loss of revenue. The reality is that we had fiscally planned and relied upon the representations of this partner. Their decision had the unintended effect of pushing Gen Art over the edge. As of today we have halted all operations."
Gen Art's yearly "Fresh Faces in Fashion" had launched the careers of many designers including Zac Posen, Rodarte, Philip Lim and Duckie Brown.