Gaultier Out, Lamaire In at HermèsM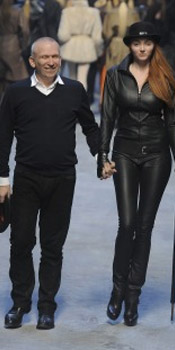 DALLAS & PARIS, May 27, 2010 / FW/ — Jean Paul Gaultier and Hermès just got hit by the seven year itch. The venerable fashion house announced yesterday that iconic designer Jean Paul Gaultier is leaving from his post as Creative Director and another French designer, Christophe Lamaire, the creative director of Lacoste, will step in where Gaultier leaves off.
The short and sweet announcement said, "After seven fruitful years of creative partnership, Hermès and Jean-Paul Gaultier artistic director of women's ready-to-wear, have decided to bring to an end their collaboration allowing Jean-Paul Gaultier to concentrate on his own projects. The spring-summer 2011 collection to be revealed in October 2010 will be the last collection created by Jean-Paul Gaultier for Hermès. Hermès is deeply grateful to Jean-Paul Gaultier for his outstanding creative contribution during these seven years."
For those who are fans of both Jean Paul Gaultier and Hermès, you don't have to worry. There will be no divorce at all. Hermès will remain as a 45% shareholder of the House of Gaultier, as it has been since 1999.
As for Christophe Lamaire, Lacoste also announced that Lamaire is leaving the brand. His final collection will be shown in New York in September. Christophe Lamaire will debut at Hermes in March 2011, for the Fall 2011 collection.
***
Elie Saab Introduces New Paris PR Team Member
DALLAS & PARIS, May 27, 2010 / FW/ — The House of Elie Saab announced yesterday the appointment of Louise Kahrmann Muller as France Press Attaché for Haute Couture, Prêt-a-porter and Accessories.
Louise began her career with Loulou de la Falaise as Press Attaché for French and international press. She then DM Media International as head of Couture & Ready-to-Wear.
In her new post, Louise will be reporting directly to Emilie Legendre, Director of Communications for Elie Saab and joins the rest of the Elie Saab PR team: Louise Kahrmann de Muller (Attachée de Presse France), Gwenn Decca (Attachée de Presse Internationale) and Maryline Mossino (Assistante Attachée de presse)