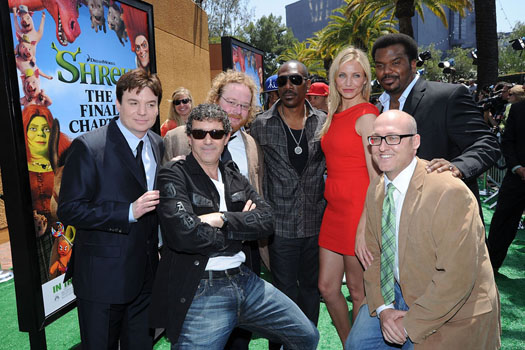 LOS ANGELES, May 16, 2010 / FW/ — With the original casts reprising their roles, Shrek Forever After brings the very popular franchise in 3D while sticking to its fairy tale theme.
Slated to for theatrical release on May 21st in the US and July 2nd in the UK, Shrek premiered today at the Gibson Amphitheatre in Universal City, California with cast members Mike Myers, Antonio Banderas, Walt Dohrn, Eddie Murphy, Cameron Diaz, Craig Robinson and director Mike Mitchell.
With a PG rating, attendees arrived with their families beginning with Eddie Murphy (Donkey), who arrived with his brood and Antonio Banderas (Puss in Boots) who brought his wife, actress Melanie Griffith.
Family affair or not, Cameron Diaz (Fiona) was her dazzling self this afternoon. In a red mini dress by Oscar De La Renta, her blonde hair worn to the side, the 37-year actress upstaged everyone including "Shrek" (in costume) who attended the premiere.
With the mantra "It ain't Ogre… til its ogre", Shrek Forever After is believed to be the fourth and final installment of the Shrek film series. This time around, Shrek (Mike Myers) has become a domesticated family ogre. Instead of scaring villagers away as he used to, Shrek agrees to autograph pitchforks.
Longing for the days when he felt like a "real ogre", Shrek is tricked into signing a pact with the smooth-talking deal maker, Rumpelstiltskin (Walt Dohrn). Shrek couldn't resist the offer; however, after signing the contract, Shrek discovers he has been tricked.
Shrek finds himself in a twisted, alternate version of Far Far Away, where Rumpelstiltskin is now king; ogres are hunted to near-extinction; Donkey (Eddie Murphy) has never met Shrek, is forced into cart-pulling duty and fears him; Puss in Boots (Antonio Banderas) doesn't know Shrek and has become fat and lazy; and Fiona (Cameron Diaz) is an inexplicably hunted ogre who never met (and can't stand) Shrek.
If you want to know what happens next, make sure to watch the movie beginning May 21st.
[MARIKIT YAMATO]
[nggallery id=290]