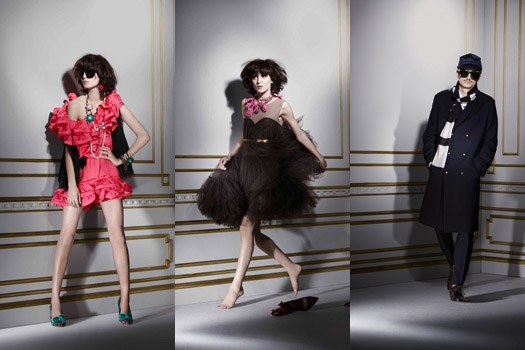 NEW YORK, Nov 2, 2010 / FW/ — Children might be counting down for Christmas but fashionistas are counting the days when the Lanvin for H&M collection reaches the 200 H&M stores worldwide.
With separate collections of womenswear and menswear, Alber Elbaz, artistic director of Lanvin, has created clothing of extraordinary ambition for H&M, bringing the codes of the house that make every single piece unmistakably the work of Lanvin.
Commenting on the collection he designed for H&M, Alber Elbaz, artistic director of Lanvin turned a bit philosophical and asked these questions to his audience: "What does luxury mean today? Can luxury be exclusive and democratic at the same time? How can we translate the essence of luxury to a wider audience?"
Answering the questions himself, Elbaz said, "The world around us is changing rapidly and I find myself asking these questions more and more. My work is usually tailored to a very small group of people, but the collection for H&M was about trying to translate the dream of luxury to everyone. It was almost like going back to school for me."
For women, there are dresses of breathtaking cut and exuberant color, as well as pieces imbued with Parisian glamour and accessories with playful joie de vivre.
Each dress in the Lanvin for H&M women's collection is of such unique design that it has to be studied on its own. Lanvin clashes a riot of oversize floral prints in a mini dress where the verve of the pattern is matched in its cut and draping.
A one-shoulder dress in purple or hot pink has a puffed sleeve of unbelievable lightness, while a silk dress in navy or purple has ruffle sleeves, an unfinished neckline and the all-important grosgrain ribbon at the waist. Meanwhile, a ballerina dress has three tiers and layer upon layer of extravagant red tulle.
To throw over any dress` there's the perfect black tuxedo jacket or a black silk-satin evening coat with raw edges and a faux-fur collar. A faux-fur jacket takes on cardigan shape with dark trim, a faux-fur vest has delicious grosgrain ties, and then there's the incredible full faux-fur double-breasted coat.
There are three styles of embellished T-shirts, such as the drawing of three Lanvin girls, their dresses picked out in cloth, or the close-up drawing of a face with eyelashes of stand-out sequins. The playfulness continues in the accessories: shoes with bejeweled heels and ribbon ties, embellished bags, gloves, sunglasses, and necklaces created as if by a child playing in mother's jewelry box.
For men, it's a whole new wardrobe of covetable updated classics, with tuxedos made for daywear paired with jogging pants for a whole new sporting twist.
The menswear collection by Lanvin's men's designer Lucas Ossendrijver brings together traditional codes with 21st century needs to create a wardrobe of covetable pieces.
The tuxedo is taken as a daywear staple, especially in a relaxed cut and worn with matching tailored jogging pants trimmed with grosgrain. There are tuxedo pants for daywear too, complete with cummerbund pleating at the waist, and shirts with a bib front or pin tuck detailing to continue the night-to-day theme.