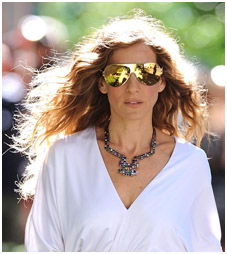 DALLAS, May 7, 2010 / FW/ — Carrie Bradshaw (played by Sarah Jessica Parker) wears a pair of mirrored golden aviators from MYKITA in the new sequel of the Sex & the City movie titled "Carrie on". The aviators are prominently featured on the movie poster as well as in the movie trailer.
The glasses are the MYKITA FRANZ, a model from the collaboration between MYKITA and German avant-garde fashion designer Bernhard Willhelm.
Inspired by the 1976 Olympics, these shades lose their sporty edge when combined by Patricia Field, the film's famous stylist, with an elegant white dress, high heels, a clutch bag and statement necklace.
And as part of the a Facebook app contest (that is run by Warner Brothers) whereby the items worn by the characters in the movie are in a contest giveaway, you can actually win the MYKITA Frans sunglasses that Carrie Bradshaw is wearing
The contest is runs from May 3 – 29, 2010, and MYKITA will be on the 25th, and then the 28th (release day!). Of course the best prizes are at the end
Here's the contest link! More info when you log-in.
http://apps.facebook.com/sexandthecitytworc/index.php?task=start
And for those who just cannot wait to find out if they won or not, the FRANZ is currently available at selected high end optical and fashion stores across the globe, notably Bergdorf Goodman and Barney's in New York City, and Net-A-Porter.com