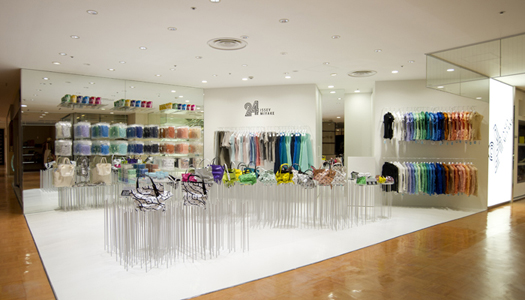 DALLAS & TOKYO, Jun 2, 2010 / FW/ — Issey Miyake breaks new grounds with the launch of its newest store-within-a-store, the "24 Issey Miyake", a concept shop with daily products that can adapt to styling needs in any setting 365 days a year.
It is almost the reverse of specialty stores that specializes in special needs, be it luxury or an occasion. 24 Issey Miyake is the 21st century interpretation of the General Store, offering products that can bring you from the office to the resort, from spring to winter, from seasonal items to bridge lines, all in casual prices.
Found only in Japan, at the Takashimaya stores in Tokyo, Tamagawa, Yokohama, Shinjuku and Kyoto, plus at PARCO Shibuya, the 24 Issey Miyake store-within-a-store also uses never before seen store fixtures that were designed exclusively by Nendo.
Nendo, an active design unit in the field of architecture and products is headed by Oki Sato, one of the brightest talents in a new generation of Japanese minimalist designers.
Known for his Fade-Out chair that seems to float in the air and the Cord Chair that is so thin, it is almost invisible in profile, Oki Sato expounded on that concept and created fixtures that are "invisible" making the product look like they are floating!
Using quarter-inch-thick clear fiberglass rods lined equidistant from each other to form a hedge, the products (purses, blouses and accessories) are cleverly arranged on top of the "hedge".
For those who know a little bit of Asian history, this idea goes back to the 19th century, even during the early part of the 20th century, when during wash days, women will use the sun as a natural bleaching agent to make whites whiter.
And if there are no clotheslines, the bamboo hedges are also used to dry the clothes. If this is the case, the hedges look like a colorful display of clothing that seem to float in a sea of green, which is exactly what Oki Sato achieved in his modern interpretation of a very old custom that no longer exists today.
As for the wall fixtures, they echo the "floating" idea both for the folded products and the hanged items.
[MARI DAVIS]